---

Florida OKs $4.5 million payout for brutal prison shower death of Darren Rainey
BY JULIE K. BROWN January 26, 2018
The family of Darren Rainey, the 50-year-old schizophrenic inmate whose barbaric shower death led to sweeping reforms in the Florida prison system, has settled a civil rights lawsuit against the state of Florida and others for $4.5 million, the Miami Herald has learned.
The deal comes nearly six years after Rainey's death, which was all but ignored by authorities until 2014 - when the Miami Herald wrote about it as part of a three-year investigation into the abuse and suspicious deaths of inmates in the Florida Department of Corrections.
It also comes as Florida is set to open a new residential prison treatment facility next month for state prison inmates with mental illnesses. The program is one of a number of initiatives for inmates with disabilities begun since the Herald's series.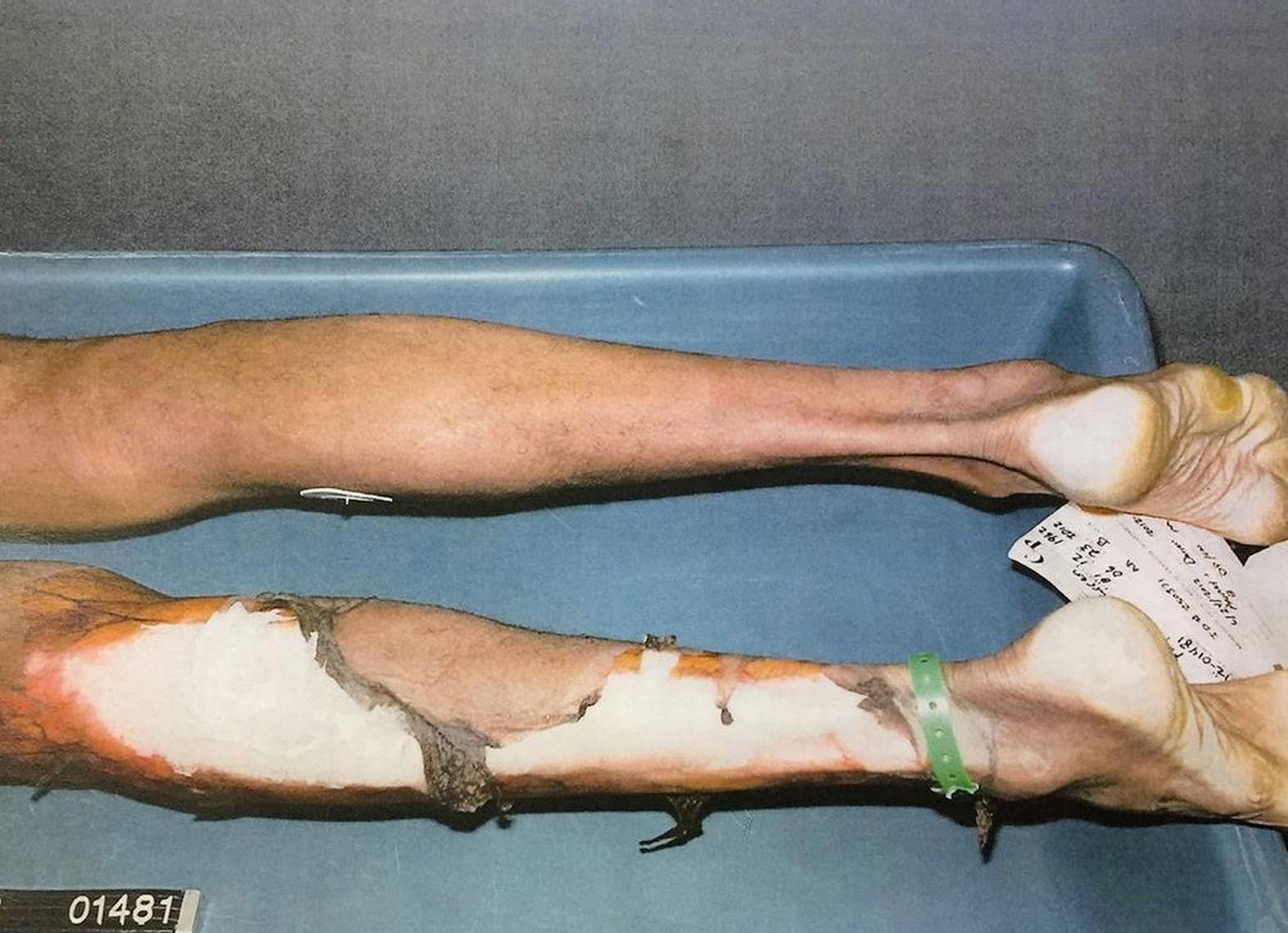 The shower in the mental health unit at Dade Correctional Institution stripped the skin off of Darren Rainey's body after he collapsed.
Rainey's daughter, brother and sister filed the civil lawsuit against the state; Corizon, the Department of Corrections' former mental health contractor; Jerry Cummings, the former warden at Dade Correctional Institution; and two former corrections officers, Roland Clarke and Cornelius Thompson. It charged that they had subjected Rainey to cruel and unusual punishment, in violation of his constitutional rights.
"I'm thankful for the family appears to have reached a resolution. However, it is not finalized at this moment, so I am reserving any further comment," Milton Grimes, the Rainey family attorney, said on Thursday.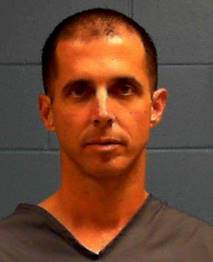 Inmate Harold Hempstead wrote to the Miami-Dade state attorney and other law enforcement offices, describing what had happened to Darren Rainey. He was ignored until his story was reported in the Miami Herald. He has been moved to a prison in another state for his own protection.
Harold Hempstead, the whistleblower who alerted the Herald to Rainey's death, said he is grateful that the case not only led to changes in Florida, but prompted other states to rethink the way they treat and house inmates with disabilities.
"Even though it was a really bad and evil thing, when I look back and see the good that came as a result of attention to the problems in the prison system, I'm happy. It's sad that someone had to die to make change happen. But they say God has a way of bringing good out of evil," said Hempstead, who is now assigned to a prison out of state for his protection.
On June 23, 2012, Rainey was locked in a blistering hot shower by corrections officers who had specially rigged it to punish inmates who misbehaved in the prison's mental health unit, the Herald found. The temperature controls were in another room.
A video from inside Dade Correctional Institution, which was released by the Miami-Dade State Attorney's Office on March 17, 2017, shows prison guards removing inmate Darren Rainey from his cell.
Rainey screamed and begged to be let out of the steaming stall for nearly two hours until he finally collapsed and died, his skin peeling off his body, the Herald found.
Dade CI's guards also used other forms of torture: dousing prisoners with buckets of chemicals, over-medicating them, forcing them to fight each other and starving them. A group of officers at the prison that served inmates empty food trays was known as the "diet squad."
For more than a year afterward, Hempstead, an orderly at the prison, sent letters to Miami-Dade homicide detectives, the county medical examiner, the office of Miami-Dade State Attorney Katherine Fernández Rundle and the prison system's inspector general, telling them that the guards at the prison had killed Rainey and were harming other inmates. But no action was taken.
Authorities, facing public pressure after the Herald stories, finally reopened the case. The Department of Corrections forced the warden and assistant warden out, the head of the agency stepped down and dozens of officers accused of abusing inmates across the state were fired or forced to retire.
Darren Rainey was not the first prisoner to be placed in the shower that killed him. Here are the recorded statements of two who talked with investigators about the experience.
Florida lawmakers and the governor then undertook a number of statewide reforms in the treatment and housing of inmates with mental illnesses and other disabilities. Next month, a new residential mental health treatment center is scheduled to open at Wakulla Correctional Institution, located in the Panhandle.
Rainey, who grew up in Tampa, was serving a two-year sentence for drug possession and had been at Dade for about four months at the time of his death. He had reportedly soiled himself in his cell and refused to clean himself up, angering the guards, who forced him into the shower.
The officers claimed they checked on Rainey every half an hour and that he was fine.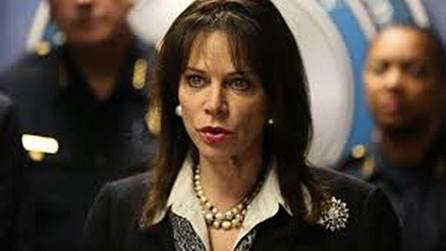 Miami-Dade State Attorney Katherine Fernández Rundle chose not to charge corrections officers in the death of Darren Rainey. An inmate's letters to her office stating that Rainey was locked in the shower and begged to be let out, only to be mocked, were ignored.
In March 2017, Fernández Rundle issued a final report on the case, announcing her decision not to file charges. She pointed to the autopsy results, which concluded that his skin damage was not caused by burns, and her contention that many of the witnesses, including Hempstead, were not consistent in their statements.
A Miami Herald analysis of her investigation, however, showed that the detectives failed to pursue key lines of questioning and ignored or downplayed leads provided by credible witnesses, such as medical personnel and corrections officers.
Rainey's death nevertheless led to the growth of an active prison reform movement by human rights groups, among them a local group called SPAN (Stop Prison Abuse Now). Its activists have held protests and pressured the state for changes.
Disability Rights Florida, the Florida Justice Institute, the Southern Poverty Law Center and the ACLU of Florida - along with many civil rights attorneys around the state - spearheaded a call for the more humane treatment of Florida's 99,000 inmates.
The U.S. Department of Justice continues to investigate Rainey's case. Miami FBI spokesman Michael D. Leverock said: "We are not in a position to comment on this matter at this time."
In confirming the settlement, FDC Secretary Julie Jones issued the following statement: "Since my appointment in 2015 we have worked to make meaningful improvements to our state correctional institutions - with a specific focus on the mental health population in our custody. We have achieved significant mental health accomplishments that ensure these inmates are given appropriate clinical services. I am absolutely committed to continuing this important work and our focus on the rehabilitation of those with behavioral health needs, as FDC works to become a national leader in correctional mental health."
As part of the settlement, the Department of Corrections was dismissed from the suit.
Martha Harbin, director of external relations for Corizon, said: "Although every defense lawyer in the case knew Corizon had no liability for Mr. Rainey's death, Corizon contributed $100,000 to the settlement in order to bring the case to a conclusion. Later, an FDOC representative thanked Corizon for making a contribution of any kind."
---

Graphic photos stir doubts about Darren Rainey's 'accidental' prison death
BY JULIE K. BROWN MAY 06, 2017 9:09 AM
The photographs of Darren Rainey's body are difficult to look at: skin curling from nearly every part of his body, from the top of his nose to his ankles. Large swaths of exposed body tissue, some of it blood red, and other portions straw yellow. Skin blistering on portions of his face, his ears and his neck. Deep red tissue exposed on his chest, his back, a thigh and an arm. Yellow tissue exposed on his buttocks and left leg.
About the only portion of his body not affected are his feet.
Paramedic Alexander Lopez saw the injuries firsthand that evening, after Rainey collapsed and died in a shower in the mental health unit at Dade Correctional Institution on Jan. 23, 2012.
"[Patient] was found with second- and third-degree burns on 30 percent of his body," Lopez wrote, adding that prison staff told him that "inmate was found on shower floor with hot water running."
The autopsy report, which inexplicably took three years to be completed and another year to be released, was puzzling to Rainey's relatives, who said they were pressured by prison officials to immediately have him cremated.
His death was an "accident," Miami-Dade Medical Examiner Emma Lew concluded in December 2015. He died from "complications from schizophrenia, heart disease and confinement to a shower."
[PATIENT] WAS FOUND WITH SECOND- AND THIRD-DEGREE BURNS ON 30 PERCENT OF HIS BODY.
Paramedic Alexander Lopez
Inmates and staff described how after Rainey was carried out of the shower, he was so red he looked like he had been "boiled" - and that his skin was peeling off his body "like fruit roll-ups."
Since Fernández Rundle announced there would be no charges, the Herald has obtained thousands of pages of reports, emails, testimony and photographs from the state attorney's office, the Miami-Dade Medical Examiner's Office and the Miami-Dade Police Department -which was the lead investigative agency.
Sources also provided the Herald with postmortem photographs, which journalists shared with Drs. Michael Baden and John Marraccini, both forensic pathologists, for their review. Select photos are published with this story in print and online.
The Herald's examination of Fernández Rundle's 101-page report, which summarized a two-year investigation, identified numerous contradictions and omissions regarding both the autopsy findings and other evidence and statements used as the basis to clear the corrections officers.
Lew maintains that Rainey suffered no burns and that there was no trauma to his body, and no credible evidence that the shower had been excessively hot. Lew declined to be interviewed for this story, but did answer some - but not all - written questions submitted by the Herald.
She said she was confident from the beginning that the injuries Rainey suffered were not burns - so confident that she did not take more than one skin tissue sample. A careful examination of skin tissue samples is critical to determining the presence or absence of burns, Marraccini said.
Lew contends Rainey's skin peeling, also known as sloughing, occurred after his death as part of postmortem decomposition.
"Postmortem [after-death] slippage of the skin was evident during the examination of the body just before autopsy," she wrote. "The slippage was similar to that seen in other bodies."
Fernández Rundle said the absence of burns made it impossible to prove that a crime had been committed, since it meant the shower was not dangerously hot. She emphasized that "science" showed that Rainey did not die from the actions of the corrections officers.
However, Marraccini and Baden both told the Herald the photos indicate burns over a significant portion of Rainey's body.
Marraccini, former medical examiner in Palm Beach County, faulted the Miami-Dade medical examiner for not taking additional skin tissue samples, since it is important to look at skin tissue from the area that suffered the most damage.
The Herald asked Lew to indicate from where on Rainey's anatomy she took the skin tissue sample. It was one of the questions she did not answer.
"Given that first responders are calling these burns, the prudent thing is to examine them thoroughly to see whether they are pre- or postmortem effects," said Marraccini, adding that photographs shared by the Herald - particularly ones taken in the prison infirmary immediately after he died - raise suspicion.
"You have to assume from the start that these are burns until proven otherwise, not the other way around," Marraccini said.
Baden, who was on New York State's prison medical review board for 40 years, said skin slippage is "hot water trauma" that can only be caused by prolonged exposure to elevated water temperature.
"I think he suffered thermal burns of his skin. They are not postmortem decomposition. These were heat effects. You don't decompose in a facility right away. The decomposition takes time," he said.
Lew maintains that the different shades of tissue on Rainey's body - the deep red vs. the yellow - are the result of slippage that occurred after his death, but at different times.
Marraccini said while it could be true that some of the sloughing happened after Rainey's death, the deep red tissue signifies thermal injuries.
Explained Baden: "The reddish area happens while the blood is coursing and the heart is beating. Once the heart stops, that doesn't make the heat effect go away. So there was skin damage while he was alive and further skin damage after he was dead."
Marraccini also noted that one of the photographs appear to show bruising on Rainey's right hand consistent with him banging on the door a s some inmates have claimed in their interviews with detectives and the Herald. The state attorney report said investigators found no convincing evidence that Rainey was screaming or banging on the door, and Lew said she detected no bruise on Rainey's right hand.
The county has refused to allow Marraccini to do an independent study of the skin tissue slide that Lew took from Rainey's body. The Rainey family has requested that the slide not be released to the Herald. Relatives did not object to the Herald publishing the photos that accompany this story.
Lew said she considered all the evidence, and referred the Herald to her "classification of pending case" report, which lists everything she reviewed, including the testimony of a health and safety inspector who said the temperature reading in the shower two days later was 160 degrees.
In an interview, Fernández Rundle said she is confident in Lew's work, so much so that she didn't ask another medical examiner to review the autopsy despite the years-long delay in completing it.
Lew, who was deputy medical examiner at the time of Rainey's death, said the case had been on hold awaiting further investigation by Miami-Dade police. Police have said they were waiting for Dr. Lew's autopsy findings.
The dormant case was revived in April 2014, when the Herald began investigating the death of Rainey, a 50-year-old serving two years for a minor drug conviction, as well as other suspicious deaths at Dade Correctional Institution.
The Rainey family, which has brought a civil suit against the Florida Department of Corrections, believes that police and the medical examiner conspired with prison officials to cover up what happened.
"We are appalled that the state attorney did not look deeper into this case and see the criminality of the people who were involved," said Milton Grimes, the family's attorney, on March 17, the day the state attorney's report was released.
Grimes, who declined to comment for this story, has suggested that police and state attorney investigators gave too much weight to corrections officers' statements and not enough to the broader context - including evidence that the temperature of the rigged shower was a dangerous 160 degrees when turned on full hot - and that corrections officers had been abusing mentally ill prisoners for years.
Among other things, the Herald has found the following problems with the state attorney's (SAO) review of Rainey's death:
The SAO said a paramedic on the scene, Alexander Lopez, "noted that there were no signs of trauma on Rainey's body..."
In fact, Lopez, who examined Rainey's body, did not mention in his report if there were or weren't signs of trauma. But he did write that Rainey "was found with second- and third-degree burns on approximately 30 percent of his body."
The state attorney also failed to mention that Brittany McLaurin, an investigator with the medical examiner's office, wrote in a report the day after Rainey's death: "Visible trauma was noticed throughout the decedent's body."
The SAO dismisses a finding by the prison health and safety inspector, Darlene Dixon, that the hot water in the shower tested at 160 degrees, far higher than is safe. Dixon took the reading two days after Rainey's death. The state attorney said the reading was questionable for two reasons: Dixon used a meat thermometer and another staff member measured the water at 120 degrees earlier the same day.
In fact, the Herald has learned, Dixon not only told investigators that the shower tested at 160 degrees when on full-hot, but that she had previously put in work orders on multiple occasions asking that the unsafe situation be fixed. Detectives and the state attorney failed to explore or even mention that in the final report.
YOU HAVE TO ASSUME FROM THE START THAT THESE ARE BURNS UNTIL PROVEN OTHERWISE, NOT THE OTHER WAY AROUND.
Dr. John Marraccini, former medical examiner in Palm Beach County
Previous tests that found similar unsafe conditions were taken with a digital thermometer, not a meat thermometer, sources told the Herald.
Furthermore, a meat thermometer, also known as a cooking thermometer, is an acceptable way to test water temperatures. Manufacturers suggest one way to determine the tool's accuracy is by putting it in boiling water.
The SAO report incorrectly says that another staff member took a reading before Dixon that same Monday after Rainey's death and that the full-hot temperature was 120 degrees. In fact, Dixon took her reading before the other staff member, the Herald has learned. But she didn't send an email about the reading until later in the day after the hot water supply had been adjusted and the water retested, by which time it topped off at 120 degrees.
"Why in the official report does Dr. Lew discuss the temperature as being 120 degrees?" said Marraccini. "It doesn't make any sense when you had a health and safety inspector say it was 160 and he lost so much skin. That skin didn't come off from black magic."
Asked about the four-year time frame for releasing the autopsy, Lew replied that there have been 174 in-custody prison death cases since 2004 that have taken more than a year to investigate.
?"We have not found any evidence of abuse in the cases that have been brought to us over the past several years," she added.

---

?Darren Rainey's Crime Scene and Autopsy Photos?

?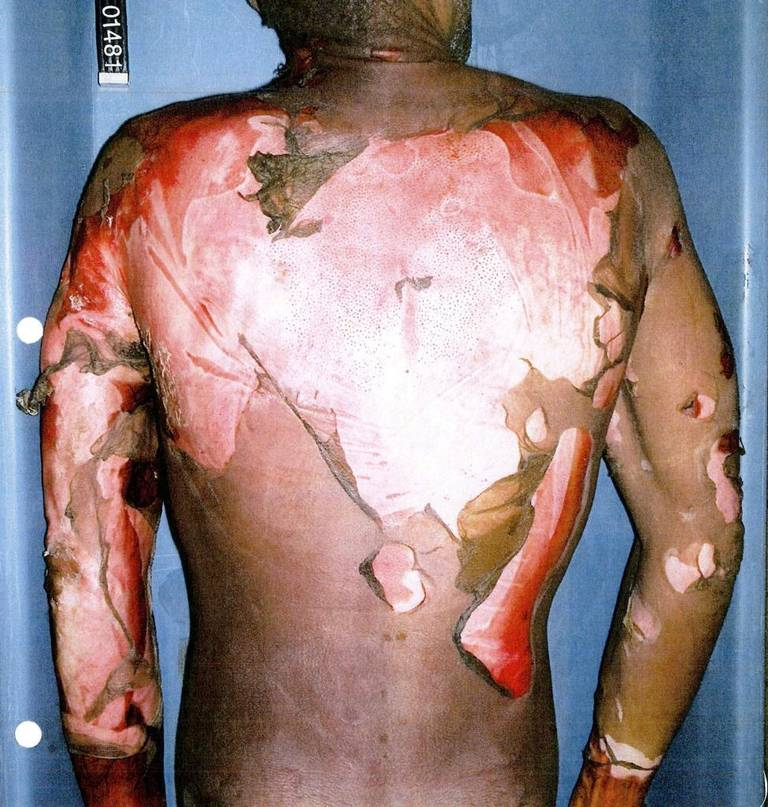 ?
Autopsy photograph of Rainey's back.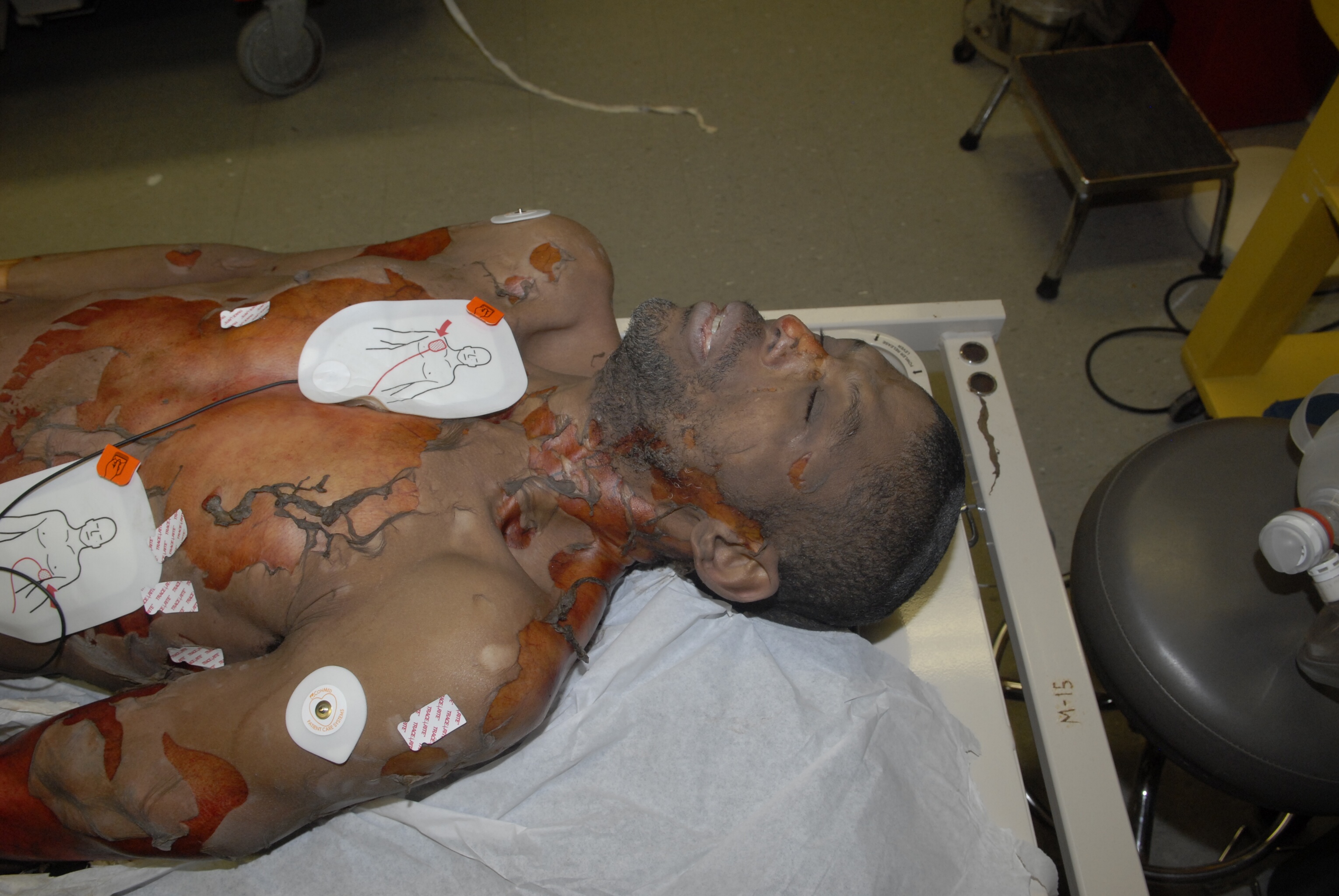 Crime scene photograph of Rainey's body in the prison infirmary right after his death. The white patches are material that staff used in efforts to revive him.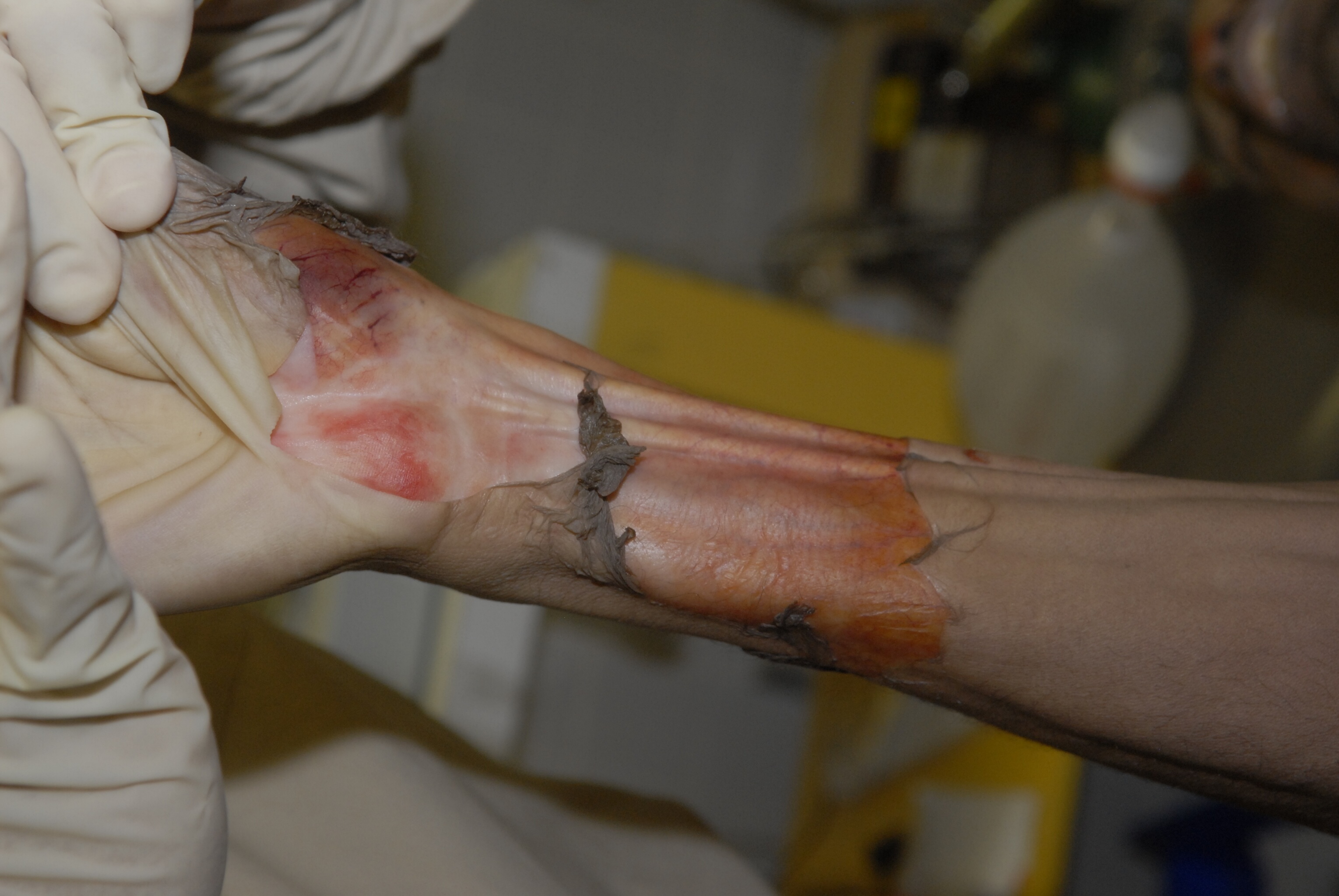 Crime scene photograph showing Rainey's right hand and what appears to be a bruise that could have been caused by him banging at the shower door.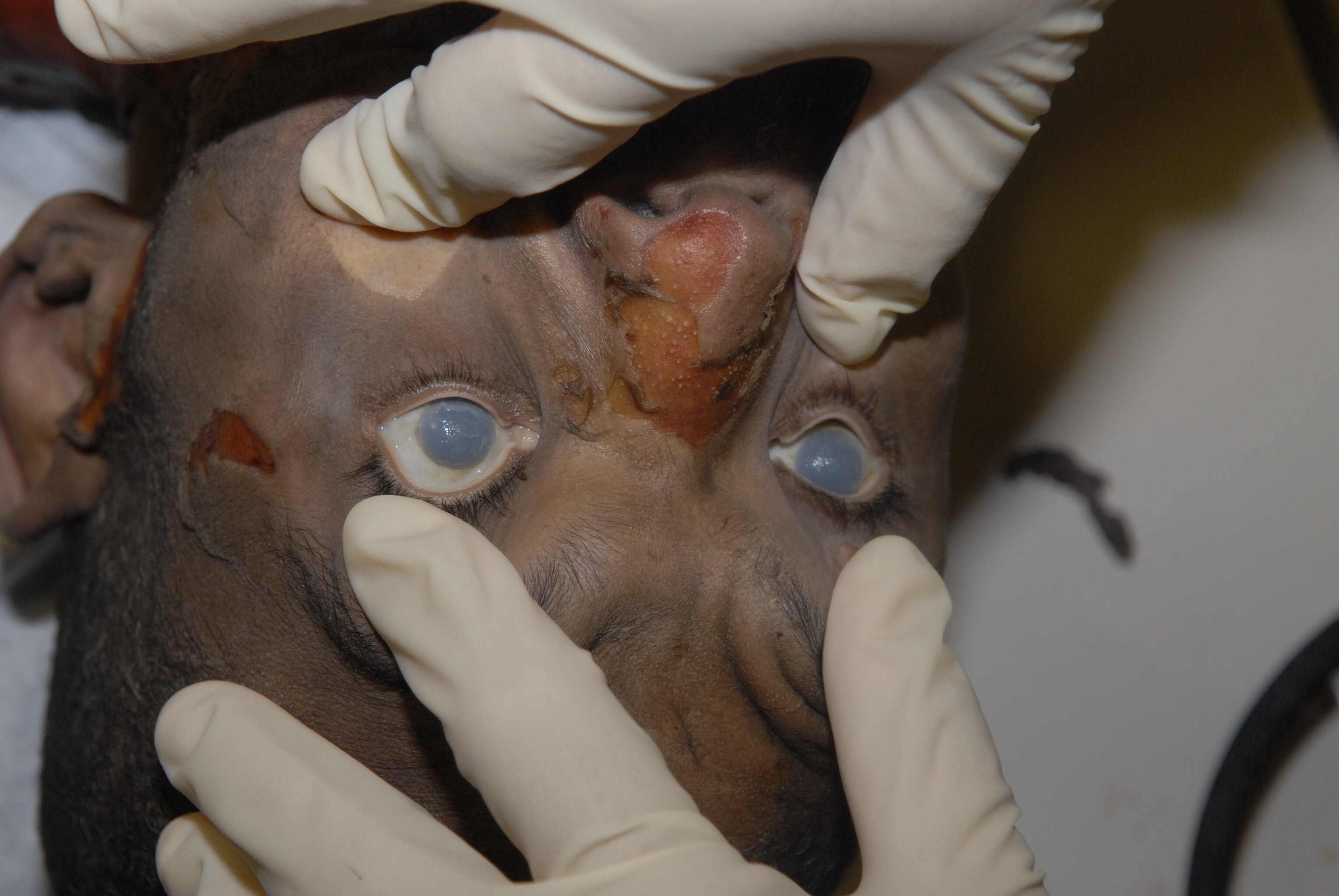 Crime scene photo showing the condition of Rainey's eyes.

For all photos go to:

Miami-Dade State Attorney Photo Archive
---

MARCH 17, 2017 4:32 PM
Prosecutors find no wrongdoing in shower death at Dade Correctional mental health unit
George's Note:
Having worked for three years as a psychotherapist in the psychiatric ward at the Dade Correctional Institution, the absurdity of the state attorney's "Swiss Cheese" report justifying the lack of criminal charges against cruel, evil, sadistic guards is more than self-evident. I know from experience that guards lied regularly on incident reports to cover up their crimes against patients in my former unit. After guards beat one of my patients, I attempted to advocate for their protection in a morning staffing. My pleadings to hold guards accountable were met with silence and blank stares. Even the head of the psychiatric unit, Dr. Christina Perez, took no corrective action to address my concerns.
Unwilling to stay silent and look the other way, I was fired two months later. The dismissal of the only mental health professional to raise a voice sent a message loud and clear - there was nobody left to interfere with the depravity that would soon envelop the unit. Within months men were being tortured with scalding showers until guards killed Darren Rainey. At least two other staffers, including Harriet Krzykowski, were eye witnesses to beatings that went unreported out of fear of retaliation from guards.
The actions of Cornelius Thompson and Roland Clark directly led to the death of Rainey - a fact not in dispute. At a bare minimum, it was manslaughter. That Miami-Dade State Attorney Katherine Fernández Rundle believed the guards' account was ample proof of her ignorance of the hostile, toxic working environment in the psych ward. Add to that Dr. Lew's final autopsy report that conflicts with the preliminary report, and the recipe for the cover up was complete.
Setting aside this travesty of justice, one of many in the FDC and prison systems nationwide, the vastly larger issue screaming for attention is how a lack of mental health treatment in America directly contributes to the mass incarceration of the severely mentally ill. Darren Rainey was poor, black, and mentally ill. His killing is symptomatic of the failure of our country to address mental health issues in our schools and communities. We have little in the way of safety nets for at-risk children and young adults suffering from mental illness. Many children, out of fear of being ostracized or bullied, suffer in silence. Having also worked in a psychiatric middle school setting for Dade County schools, I have witnessed first hand how a program of early intervention can turn a student's life around.
When mental health treatment is provided early, the chances of a child's life being derailed by mental illness declines dramatically. Those like Darren Rainey who can't get treatment end up dropping out, self-medicating with street drugs, and falling in with the wrong crowd. Once they're arrested for behavior that is often a manifestation of untreated mental illness, they enter the nightmarish quagmire that is our criminal justice system.
The cost of treating individual children and young adults with mental illness is far less than the $24,000 a year per inmate that Florida spends today - a paltry figure that is one of the lowest in the U.S. Every dollar spent on children will save twenty times as much down the road and will help insure that they become productive members of society. Spending tax dollars wisely on mental health will benefit many who now live without treatment, reduce the vast numbers of the mentally ill in prisons and jails, and as a consequence, permanently close costly prisons. It's a win-win proposition that will insure prisons and jails are no longer warehouses for the mentally ill. It is up to all of us to pressure lawmakers to fund mental health initiatives; otherwise, Darren Rainey's brutal death will be in vain.
Prosecutors find no wrongdoing in shower death at Dade Correctional mental health unit
BY JULIE K. BROWN
A 101-page investigation released Friday concludes that corrections officers who locked a schizophrenic inmate in a hot shower at Dade Correctional Institution and left him there for nearly two hours - until realizing he was dead - committed no crime.
The report, issued by Miami-Dade State Attorney Katherine Fernández Rundle, said the death of 50-year-old prisoner Darren Rainey was an accident, the result of complications from his mental illness, a heart condition and "confinement in a shower."
At least six inmates claimed that the shower was specially rigged so that corrections officers controlled the temperature and were able to crank it up to scalding - or down to an uncomfortably frigid spray, thereby using it as punishment to control unruly inmates, most of whom suffered from mental illnesses.
But the state attorney's two-year probe decided that the inmates' statements were not credible.
While the report cited significant inconsistencies in the accounts of inmates, it acknowledged the same was true to a lesser degree of the accounts of staffers, although there was "general agreement on a core set of salient facts."
Sgt. John Fan Fan, and officers Cornelius Thompson, Ronald Clarke and Edwina Williams - the staffers involved in putting Rainey into the shower - did not act with premeditation, malice, recklessness, ill-will, hatred or evil intent, the state attorney said.
The report includes photographs, videos, dozens of witness statements, the medical examiner's summary, prison housing logs, timelines and other documents.
Milton Grimes, the attorney representing Rainey's siblings, suggested the report's release, late on a Friday, on St. Patrick's Day, was meant to limit public scrutiny of the clear "inadequacies" of the investigation.
"We are appalled that the state attorney did not look deeper into this case and see the criminality of the people who were involved," Grimes said. He said the family is disappointed, but remains hopeful that federal investigators still probing possible civil rights abuses will find justice.
Grimes suggested that police and state attorney investigators gave too much weight to corrections officers' testimony and not enough to the broader context - news reports and inmate grievances suggesting prison staff has been abusing inmates at the prison for years.
Others also questioned whether the case was thorough.
"A lot of evidence was tampered with because the people there who had an interest did not want it to come out," said Harriet Krzykowski, a former mental health counselor at the prison who was not interviewed as part of the probe.
Among the most controversial portions of the state inquiry is the temperature of the shower. The report gives no indication that crime scene investigators turned on the water to see how hot it ran. A prison captain, assigned as the environmental health and safety officer, tested it two days after Rainey's death and found it to be 160 degrees, far greater than the 120-degree limit set by the state.
But her reading was dismissed as not indicative of the temperature when Rainey was inside.
Other than two prison officers, a nurse and a paramedic, no one was interviewed by police - including multiple inmate witnesses who had reached out to various law enforcement authorities - until two years later, when the Miami Herald began raising questions about the case as part of what would become a three-year probe into corruption in Florida prisons.
The final report does not address why the case was put on hold, or why, nearly five years later, the autopsy has never been released.
Dr. Emma Lew, Miami-Dade's medical examiner, was emphatic, however, that Rainey did not suffer burns of any kind, and there was no evidence of any trauma on his body, according to the state attorney's report issued Friday.
However, a never-released preliminary report written the day of the autopsy refers to "visible trauma . throughout the decedent's body."
A nurse told the Herald early on that Rainey's body temperature that night was so high it could not be measured on a thermometer.
One fact is undisputed: Rainey's skin was peeling off his body when he was pulled out of the shower.
Since 2014, police detectives spoke with 26 inmates who were in the mental ward, called the transitional care unit (TCU) at the time of Rainey's death. At least six inmates said that the shower had been used to punish inmates who misbehaved. And three reported that they themselves had been subjected to punishing showers. Some say the shower was used by inmates without any problem. Fourteen inmates were either too mentally ill to say anything credible - or they refused to talk to police altogether.
Lew also discounted what the prisoners said because the prison nurses police interviewed claimed they had never treated - nor heard about - any inmates who had burns as a result of the shower.
But Krzykowski and others medical workers at the prison have told the Herald that they were pressured to keep quiet by both their employer, a private contractor, and by corrections officers who threatened to leave them unprotected when dealing with unstable inmates.
David Weinstein, a former federal prosecutor who reviewed the report for the Herald, said it's clear that the evidence did not meet the legal standard required to charge any of the officers with a crime.
"If you want to buy the government-conspiracy theory that the state attorney never charges corrections officers because they are part of the conspiracy, you are going to say they twisted the facts to support their theory," he said.
"But if you look at it objectively, I don't disagree with the results that were released. The only person that says that Rainey was burned and scalded was one inmate - and when you compare that to the rest of the evidence, it's not consistent."
That inmate, Harold Hempstead, was an orderly in the mental ward when Rainey died. It was Hempstead who first raised concerns about the episode, writing letters and filing complaints with police, the medical examiner and the state attorney about Rainey's death as well as other alleged abuses inside the TCU.
He and other inmates and mental health staff told the Herald that state prison guards used forms of torture, including dousing prisoners with buckets of chemicals, over-medicating them, forcing them to fight each other and starving them. A group of officers at the prison that served inmates empty food trays, known as "air trays." was known as the "diet squad" and they often preyed on inmates who were too ill to coherently report what had happened, prisoners said.
Around the time of Rainey's death, another inmate hanged himself from an air conditioning vent, leaving a note sewn into his shorts detailing a litany of alleged abuses against inmates in the mental health unit.
"I'm in a mental health facility . I'm supposed to be getting help for my depression, suicidal tendencies and I was sexually assaulted," wrote Richard Mair, 40.
The Department of Corrections never investigated Mair's complaints, and the state attorney's investigation in the Rainey case was limited to the facts surrounding Rainey's death.
State investigators said they didn't find Hempstead to be credible because his timeline was at odds with events reflected on a video surveillance camera. Also, Hempstead could not have seen some of the things he claimed to have seen because his window was covered with paper for part of that time. The document suggests he pressured other inmates to report things that didn't happen, pointing out that many of the inmates' statements were "inconsistent with the testimony of correctional personnel, all of the nurses, as well as the physical evidence."
Hempstead was relocated to another state Friday, yet undisclosed, through a prisoner exchange, making him unavailable for comment. Prison officials said the timing was coincidental.
The report itself is inconsistent in some areas. On page 68, for example, the investigation says that only one inmate, Halden Casey, gave information about being placed in the shower with excessively hot water.
Earlier in the report, it mentions two other inmates: Lawrence Smith said he had been put in the hot shower about a month before Rainey died and that he had reported it to the nurses. Another inmate, Timothy Sliders, said he had been left in the hot shower for 30 minutes, but he managed to avoid injury by standing outside the spray. Another time, when he mentioned the water was comfortable, a guard went into the janitor's closet and turned it up hotter, he told police detectives according to the report.
Rainey, who grew up in Tampa , was serving a two-year sentence for cocaine possession and had been at Dade for about four months at the time of his death. He reportedly had soiled himself in his cell and refused to clean up, so the officers led him to the second-floor shower, despite other showers being closer to his cell.
Lew, the medical examiner, noted that people with schizophrenia have an impaired ability to compensate for "heat stress" and that this, combined with the powerful medication he was taking, could have contributed to hyperthermia and created a predisposition to cardiac arrest.
She attributed his skin slippage to as an event that happened post-mortem consistent with "exposure to a warm, moist environment" and the effects of changes during the early stages of body decomposition.
Six inmates claimed that Rainey yelled that he wanted out of the shower. No member of the prison staff reported hearing anything.
Julie Jones, secretary for the Department of Corrections, said she was appreciative of the effort by police and the state attorney. The agency remains focused on implementing reforms in the way it cares for mentally ill inmates.
"We will continue to integrate services which ensure these inmates successfully re-enter society and lead crime-free lives upon release," she said.
Following the Herald's stories, Dade Correctional's warden and assistant warden were forced out, and, later, then-Secretary Michael Crews stepped down amid political pressure. He was replaced by Jones. Other high-level prison officials have also left, including the prison agency's inspector general, Jeffery Beasley - the system's "watchdog" - who was accused by his own investigators of thwarting investigations.
Two of the guards identified as locking Rainey in the shower left their prison jobs, but were allowed to keep their law enforcement certifications. Roland Clarke is now a police officer in Miami Gardens and Cornelius Thompson works as a federal corrections officer.
Rainey's family filed a federal civil rights lawsuit against the Florida Department of Corrections in 2016. It is still pending.
The U.S. Department of Justice is still investigating possible civil rights abuses in Florida prisons.
---

MARCH 16, 2017 9:54 PM
After 4 1/2 years of official silence, decision day on Florida prison shower death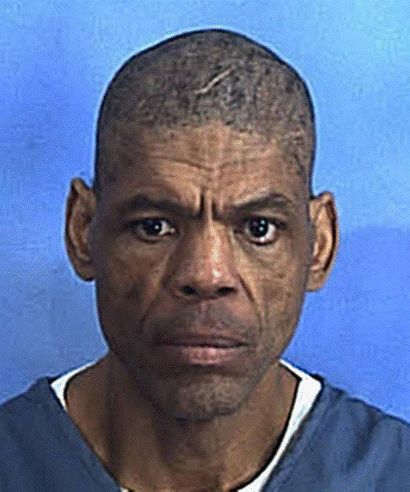 Darren Rainey

BY JULIE K. BROWN
In June 2012, Darren Rainey was forced into a shower by officers at Dade Correctional Institution and left there, under a blistering spray of scalding water, for nearly two hours. Rainey, who suffered from schizophrenia, screamed and begged to be let out of the small stall, until, finally, he collapsed and died, flecks of his skin floating in the water - and his body temperature so high that it couldn't be registered on a thermometer.
On Friday, nearly five years after his death, Miami-Dade State Attorney Katherine Fernández Rundle is expected to release her office's investigation into Rainey's death - and announce whether anyone will be held criminally responsible.
Milton Grimes, the attorney representing Rainey's family, said Fernández Rundle's office contacted him Thursday to alert him that the report would be released Friday afternoon. The fact that it is being released on a Friday afternoon - and on St. Patrick's Day, when many a work day is cut short - gives him scant hope that justice will be served.
Releasing bad news or documents on a Friday afternoon is typically known as a "Friday news dump," an attempt to release a report at a time when it will avoid scrutiny by the public and the media.
"As you can imagine, his family has been waiting a very long time for justice," Grimes told the Miami Herald on Thursday evening. "They are very anxious about what the state attorney will say and hopeful that someone will be charged."
Fernández Rundle's spokesman, Ed Griffith, did not return emails or voice messages left by the Herald on Thursday evening. But sources had told the Herald two weeks ago that the report was finished and its release was imminent.
Dade Correctional Institution - located on the edge of the Everglades near Homestead - is a facility that houses approximately 1,500 male inmates. It is one of a handful of state prisons with transitional care units (TCUs) that house prisoners who suffer from mental illness.
RAINEY'S DEATH LED TO THE GROWTH OF A PRISON REFORM MOVEMENT BY HUMAN RIGHTS GROUPS, AMONG THEM A LOCAL GROUP CALLED SPAN (STOP PRISON ABUSE NOW). ITS ACTIVISTS HAVE HELD PROTESTS AND PRESSURED FERNÁNDEZ RUNDLE TO BRING CHARGES AGAINST THE OFFICERS INVOLVED IN RAINEY'S DEATH.
Dade's corrections officers had specially rigged a shower in the TCU to be cranked up to scalding temperatures, or made frigidly cold, to punish inmates who were unruly, the Miami Herald found as part of a three-year investigation into statewide prison abuse that began in 2014. The controls were in a different room.
Dade CI's guards also used other forms of torture: dousing prisoners with buckets of chemicals, over-medicating them, forcing them to fight each other and starving them. A group of officers at the prison that served inmates empty food trays was known as the "diet squad."
Rainey, 50, was serving a two-year sentence for drug possession and had been at Dade for about four months at the time of his death. On June 23, 2012, Rainey reportedly had soiled himself in his cell and refused to clean himself up, angering the guards, who forced him into the shower.
The officers claimed they checked on Rainey every half an hour and that he was fine. But witnesses said Rainey screamed and begged to be let out, promising them he would behave. The officers reportedly taunted him and laughed, saying "is it hot enough?"
Miami-Dade police were called to the prison to investigate that night, and issued a preliminary report. They classified the death as an "unexplained in-custody death," and set it aside. It wasn't until the Herald began writing about the incident in May 2014 that detectives began looking into it in earnest.
Even then, Miami-Dade's medical examiner would not release the autopsy or the cause of death - not even to Rainey's family. Andre Chapman, Rainey's brother, said prison officials had pressured him into cremating Darren, and because the family had no money, he agreed.
Following the Herald's stories, Dade CI's warden and assistant warden were forced out, and later, the secretary for the department also stepped down amid political pressure. To this day, however, no one has been disciplined or charged, and several of the officers on duty that night were promoted after the incident.
The two guards identified in reports as locking Rainey in the shower left their prison jobs, but were allowed to keep their law enforcement certifications. One of them is now a police officer in Miami Gardens and the other works as a federal corrections officer.
Last year, some details of the autopsy were leaked, showing that the medical examiner had ruled Rainey's death "accidental" - the result of complications from schizophrenia, heart disease and "confinement" in a shower. This led to speculation that no charges would be filed in the case.
THE TWO GUARDS IDENTIFIED IN REPORTS AS LOCKING RAINEY IN THE SHOWER LEFT THEIR PRISON JOBS, BUT WERE ALLOWED TO KEEP THEIR LAW ENFORCEMENT CERTIFICATIONS.
Rainey's family filed a civil lawsuit against the Florida Department of Corrections in 2016. In it, relatives said Rainey had been burned over 90 percent of his body and his skin was so hot to the touch that it was peeling.
His death led to the growth of a prison reform movement by human rights groups, among them a local group called SPAN (Stop Prison Abuse Now). Its activists have held protests and pressured Fernández Rundle to bring charges against the officers involved in Rainey's death.
"If indeed the report on Darren Rainey's brutal murder comes out on a Friday afternoon...SPAN views it as regrettable, because perhaps it's being done to detract from it so that people won't pay attention. We will, however, wait and comment on the report when it is released," said Steve Wetstein, SPAN's spokesman.
While Rainey's death has led to some reforms in the treatment of those with mental illnesses in Florida prisons, the system remains dangerously understaffed and rife with violence, as evidenced by recent turmoil and riots at prisons throughout Florida.
Several groups, including Disability Rights Florida and the American Civil Liberties Union, had called on the U.S. attorney general last year to investigate after it appeared that local and state investigations weren't moving ahead. A federal probe into abuse in Florida prisons is pending.
---

Jailing the mentally ill with George Mallinckrodt
---
---
On this week's episode of On Contact, Chris Hedges discusses the incarceration of America's mentally ill with George Mallinckrodt, psychotherapist and author of Getting Away with Murder. They address the cases of mistreatment, isolation, and lack of transparency that Mallinckrodt witnessed while working in a Florida state prison psychiatric ward.
---

THE DARREN RAINEY CASE
Inmate's Brutal Death Unpunished
BY JULIE K. BROWN June 23, 2016
One thousand four hundred and sixty one days.
That's how long it's been since Darren Rainey was forced into a shower by officers at Dade Correctional Institution and left there, under a blistering spray of scalding water, for nearly two hours. It's been four years since Rainey screamed and begged to be let out of the small stall before finally collapsing in a heap, his skin peeling.
Since Rainey's death, it was discovered that he and other mentally ill inmates at the prison had been tortured, beaten, starved and left to sleep in their own excrement. They were doused with buckets of chemicals, over-medicated, kept in extended isolation and placed in painfully cold or blistering showers as punishment for behavior caused mostly by their own illnesses.
While Rainey's death has led to some reforms in the treatment of the mentally ill in Florida prisons, the prison system remains dangerously understaffed and rife with violence, as evidenced by recent riots and turmoil at Franklin Correctional Institution in north-central Florida.
Details of the June 9 incident at Franklin haven't been made public, and may never be known. The absence of transparency by the agency, critics say, has bred distrust and a lack of confidence that the prison system is truly taking the steps necessary to keep inmates, officers and the public secure.
"The bigger picture is that we have officers who are trying to maintain control through intimidation and violence," said George Mallinckrodt, a psychotherapist who witnessed the mistreatment of inmates while working at Dade Correctional's TCU, or transitional care unit, where Rainey died on June 23, 2012.
"What have we heard in terms of these brutal cases where Rainey and others have died? Is someone still working on it?" Mallinckrodt said. "These cases drift through time and you read the stories and you're frustrated. Why is it taking so long to investigate?"
Mallinckrodt and others with the group SPAN (Stop Prison Abuse Now) have organized a protest at 11 a.m. Thursday - the anniversary of Rainey's death - at the offices of Miami-Dade State Attorney Katherine Fernández Rundle to call attention to the many still-unanswered questions about Rainey's death.
Rundle's office, as per policy, will not comment on ongoing investigations.
Public documents, including Rainey's autopsy, have yet to be released. No one has been charged or disciplined, and, in fact, two of the corrections officers on duty that night were promoted after the incident. Another two left the agency, but kept their law enforcement certifications and obtained better police jobs. Miami-Dade police treated Rainey's case as an unexplained in-custody death and didn't investigate until two years later, when the Miami Herald began looking into his death and other suspicious deaths in the state prison system.
Four years after Rainey's death, concerns are still being raised about whether the Department of Corrections is treating inmates with mental illness and other disabilities humanely. Two inmates died, reportedly while on suicide watch, at Charlotte Correctional Institution in Punta Gorda within the past year. Prison officials have said they killed themselves.
"There are still issues of adequate supervision in the prison system," said Peter Sleasman, an attorney with Disability Rights Florida. "Both the inmates at Charlotte were in suicide observation, which is supposed to be a heightened level of observation. In spite of that, in two cases, people died when they shouldn't have."
Disability Rights Florida, a federally funded group that advocates for inmates with disabilities, sued the Florida Department of Corrections (FDC) in September 2014, alleging systematic abuse and discrimination of mentally ill inmates at Dade Correctional, which is near Homestead .
As part of a settlement, FDC agreed to work with Disability Rights Florida on reforms. New video equipment with audio capabilities has been installed to monitor inmates, the staff has been better trained and the facility now has adequate plumbing, air-conditioning and properly operating showers. But Sleasman said the agency still has a long way to go.
"Although some things have changed, it's still fairly limited to Dade [Correctional] and it's not reached the systemic level," Sleasman said.
Inmates with mental health issues are still being kept in isolation in many facilities because the prison system doesn't have the staff to escort people from their cells, he said.
"Just the act of getting out and participating in treatment is critically important," he said. "If they don't get out, and go to programs and get treatment, it becomes another form of solitary confinement, which exacerbates their illness."
Julie Jones, secretary for the Department of Corrections, declined to answer questions for this story about recent changes or planned improvements to the department's mental health program.
In a written statement on Tuesday, Jones said she remains committed to reforms, not just at Dade Correctional, but throughout the prison system.
"I am steadfast in my commitment to providing the highest possible level of treatment to inmates affected by mental health issues and will continue to improve access to behavioral health services statewide," Jones said.
Howard Simon, executive director of the ACLU of Florida, said that state lawmakers have saddled Jones with an almost impossible task - and because of that, the lessons of Rainey's death may be for naught.
"The state Legislature has imposed on the department to use the prison system as an alternative to mental health treatment. If we continue to use the prisons as warehouses for people with mental illness and people with drug addictions, how can we say with confidence that something like this won't happen again?" Simon said.
Rainey, who was sentenced to a two-year term for cocaine possession, suffered from severe schizophrenia and had been in prison for four months when he was locked in a shower chamber specially rigged to deliver 180-degree water through a hose from a neighboring janitorial closet.
Prisoners said that corrections officers Cornelius Thompson and Roland Clarke and others on the shift that night ridiculed Rainey as he kicked the locked door and begged to be let out. They left him there for between 1 1/2 and two hours, according to various staff reports. At some point he collapsed, falling face-up onto the drain.
Afterward, inmates wrote letters to the governor, the prison system's inspector general, the Florida Department of Law Enforcement and Miami-Dade police, but nothing was done.
Harold Hempstead, an orderly in the unit who was there the night Rainey died, reached out to the Miami Herald in early 2014. He had kept a diary detailing the events leading up to and following Rainey's death. Hempstead, a convicted burglar, has been interviewed by the FBI multiple times since the Herald reported on the case.
After he was threatened by corrections officers for reporting what he saw, Hempstead was placed in protective management and moved around the system. In recent weeks, he was transferred to Okeechobee Correctional Institution, where he has been denied the opportunity to speak by phone to his family or to the Herald. In letters to the newspaper, he said he was isolated because his life was threatened. A person with knowledge of the prison system confirmed a threat to his well-being had been received and was being investigated.
The Miami-Dade Medical Examiner's autopsy report, the contents of which were leaked to the Herald, says that Rainey died from complications of schizophrenia, heart disease and "confinement" in the shower.
Rainey did not suffer any burns anywhere on his body, and investigators could not conclude that the specially rigged shower was "excessively" hot the day he collapsed, the report said. Sources said the medical examiner ruled that corrections officers had "no intent" to harm Rainey when they kept him in the shower for up to two hours.
Because of the medical examiner's findings, federal prosecutors will be hard-pressed to prove a criminal case, law enforcement sources close to the investigation told the Herald this week.
"My feeling is whether this is called a criminal act or not, this should not have happened," Sleasman said. "You just don't put someone who is mentally ill in a shower and leave them. No one has explained how this happened."
Justice Department officials, in a letter to the American Civil Liberties Union of Florida, acknowledged last year that they also were examining whether prison officials abused their positions of authority and whether there was a pattern and practice of civil rights violations in the prison.
Milton Grimes, the attorney representing Rainey's family, said he is in the process of serving subpoenas on several of the principals in a civil rights lawsuit brought by Rainey's family against the Department of Corrections.
He acknowledged that the case has been dragging on too slowly.
"I have concerns that witnesses will move away, that witnesses will change their minds, that people could intimidate cooperating witnesses. Now we're going as fast as we can to get discovery and scheduling depositions," said Grimes, a Los Angeles attorney best known for representing Rodney King, who was beaten by Los Angeles police officers in 1991.
Jones, who was tapped by Gov. Rick Scott in January 2015 to take over the failing prison system, has said that many of the agency's problems can be traced to excessive budget cuts by the Legislature. High turnover and inexperienced staff has been a dangerous combination at many prisons. Some facilities routinely operate at critical staffing levels - or the bare minimum needed to keep a prison secure.
The department has not said what prompted the siege at Franklin, where 300 inmates took over two dorms for several hours. Family members of inmates who contacted the Herald allege that the inmates became riled up after several officers began beating an African American inmate, calling him racial slurs. The dorms involved, known to house gang members, began a protest that escalated into them taking over two dorms, and destroying almost everything in the building. The uprising was quelled when inmates surrendered.
Miami Herald staff writer Jay Weaver contributed to this story.
OTHER CASES
In a separate action, Disability Rights Florida - which advocates for individuals with disabilities - filed a federal lawsuit in January against FDC, alleging systemic failures to comply with federal laws protecting disabled inmates. The group found 32 cases involving individuals with physical disabilities who were unable to receive medical care or prevented from participating in work or educational programs because of their disabilities.
JULIE JONES STATEMENT
"It's imperative for the public to know that the death of Darren Rainey has not gone unnoticed and that the humane treatment of inmates is our top priority. The Department has implemented wholesale improvements to the care and safety of mentally ill inmates along with all those incarcerated within Florida 's prison system. I am steadfast in my commitment to providing the highest possible level of treatment to inmates affected by mental health issues and will continue to improve access to behavioral health services statewide. In addition to security related policy changes, we have increased out of cell therapy time and added the use of cameras and technology in our mental health units. Additionally, the Department continues to offer further training for all staff who treat our increasing mental health population."
---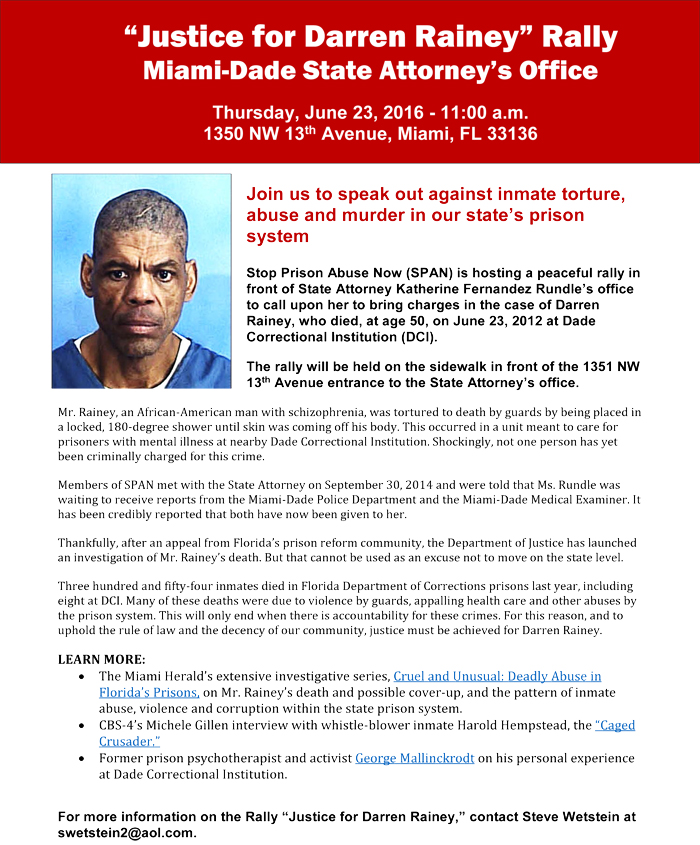 Stop Prison Abuse Now (SPAN)
For further information, please contact
Amy McClellan amyjmcclellan@gmail.com 305-582-9747 or
Steven Wetstein swetstein2@aol.com 305-226-2480
Please visit us at http://nationinside.org/campaign/stop-prison-abuse-now/
https://www.facebook.com/groups/
1561624624070302/permalink/1567687723463992
Stop Prison Abuse Now (SPAN) is a coalition of organizations and concerned individuals committed to protecting the rights of Florida's prisoners, with a special emphasis on those with mental illness.
Our group was formed in May 2014 when The Miami Herald began investigating conditions in Florida's prisons, starting with the tragic June 23, 2012 death of Darren Rainey , a 50-year-old black man with paranoid schizophrenia. He was locked by guards into a 180-degree shower at Dade Correctional Institution (DCI) in Miami-Dade County, Florida as punishment. Two hours later he was dead, with skin separating from his body. This outrageous crime launched our group. Today we are fighting for the rights of all people incarcerated in Florida.
The problem goes far beyond one case. In 2015, among Florida's 101,000 prisoners, 354 died, an increase of 85% since the end of 2000, though the prison population only increased by 42%. The Florida Department of Law Enforcement is currently investigating over 200 prisoner deaths to see if criminal violations occurred. In 2012, Florida had the highest rate of prisoner deaths in the nation, 345 per 100,000.
It is estimated that Florida's mentally ill are three times as likely to be in prison or jail as in a mental health facility, and that 55% of men, and 75% of women, in Florida's prisons need at least some mental health care.
Our coalition includes The Key Clubhouse of South Florida, a community resource and job training center for those with mental illness, the Miami chapter of Amnesty International USA, and Temple Israel of Greater Miami. We have worked closely with the American Civil Liberties Union of Florida in appealing to U.S. Department of Justice (DoJ) for an investigation of Darren Rainey's murder (which the DoJ has now launched) and of the use of solitary confinement in Florida's prisons, and have also received support by such organizations as the South Florida AFL-CIO; the American Muslim Association of North America; Sant La Haitian Neighborhood Center; the Southern Poverty Law Center; the Florida Council of Churches; the National Alliance on Mental Illness; We Count! (a group protecting farmworker rights in Homestead Florida); Fanm Asisyen Nan Miyami (Haitian Women of Miami); the Florida State Conference of the NAACP and many others.
We want to bring to bear the power or change held by one and all. Please join us!!!
---

Tortured, Killed & Driven to Suicide: Whistleblower Exposes Abuse of Mentally Ill in Florida Prison
---
---
HOST
AMY GOODMAN is the host and executive producer of Democracy Now!, a national, daily, independent, award-winning news program airing on over 1,400 public television and radio stations worldwide.
GUESTS
GEORGE MALLINCKRODT - Psychotherapist, author and human rights activist. He is a whistleblower who lost his job after reporting on abuse of his patients in the Dade Correctional Institution's Transitional Care Unit in 2011. Mallinckrodt's book is called Getting Away with Murder: A True Story.
EYAL PRESS - Author of Beautiful Souls: Saying No, Breaking Ranks, and Heeding the Voice of Conscience in Dark Times. He is also a Puffin writing fellow at The Nation Institute. Press's new article in The New Yorker is called "Madness: In Florida prisons, mentally ill inmates have been tortured, driven to suicide, and killed by guards."
A shocking new exposé in The New Yorker magazine documents how prison guards at the Dade Correctional Institution in Florida have subjected mentally ill prisoners to vicious beatings, scalding showers and severe food deprivation. Journalist Eyal Press notes the guards act with near impunity since prison staff, including mental health workers, often fear reprisals for speaking out. He writes that prisons have become America's dominant mental health institutions. The situation is particularly extreme in Florida, which spends less money per capita on mental health than any state with the exception of Idaho. We speak with Eyal Press and one of his sources, George Mallinckrodt, a psychotherapist and whistleblower who lost his job after reporting on abuse of his patients in the Dade Correctional Institution's Transitional Care Unit in 2011.
TRANSCRIPT
AMY GOODMAN: This is Democracy Now!, democracynow.org, The War and Peace Report. We turn now to a shocking new exposé in The New Yorker magazine called "Madness: In Florida prisons, mentally ill inmates have been tortured, driven to suicide, and killed by guards." In it, journalist Eyal Press documents how prison guards at the Dade Correctional Institution have subjected mentally ill prisoners to vicious beatings, scalding showers, severe food deprivation. Press notes the guards act with near impunity, since prison staff, including mental health workers, often fear reprisals for speaking out.
According to the article, prisons have become America's dominant mental health institutions. The situation is particularly extreme in Florida, which spends less money per capita on mental health than any state with the exception of Idaho. Meanwhile, between '96 and 2014, the number of Florida prisoners with mental disabilities skyrocketed by 153 percent. According to Bureau of Justice statistics, an estimated 56 percent of state prisoners, 45 percent of federal prisoners, 64 percent of jail inmates suffer from mental health issues.
For more, we're joined by two guests. Eyal Press is with us. He's just written this article for The New Yorker. The piece is called "Madness." He's also author of Beautiful Souls: Saying No, Breaking Ranks, and Heeding the Voice of Conscience in Dark Times. Eyal Press is a Puffin writing fellow at The Nation Institute. In Miami, Florida, we're also joined by George Mallinckrodt, a psychotherapist, author and human rights activist. He is a whistleblower who lost his job after reporting on abuse of his patients in the Dade Correctional Institution's Transitional Care Unit in 2011. His book is called Getting Away with Murder: A True Story.
We welcome you both to Democracy Now! Eyal, talk about how you discovered this story. And talk about particular cases inside the Florida prisons.
EYAL PRESS: Well, I discovered the story, actually, through people like George Mallinckrodt, one of your guests, and various other counselors and psychotherapists who worked at this prison you just mentioned, the Dade Correctional Institute. And what interested me is that, you know, in the abstract, these-these are people who worked in the mental health ward. When they saw abuse, they have a duty to report it. That's part of basic medical ethics. And yet, they are, in reality, beholden to the guards for their own safety and security, for their ability to do their jobs.
And so, I wrote about various people in that ward, personnel, who witnessed the abuse and felt stifled, felt unable to say anything about it, in particular a counselor named Harriet Krzykowski, who very early on noticed that inmates were being verbally abused. She also noticed-or they told her, actually, that they weren't getting their meals, that they were being starved. And when she reported this to her supervisor at the time, she was told, "Look, we have to have a good working relationship with security." Very quickly after she began, she actually sent an email expressing concern that she wasn't being allowed to let these inmates out into the rec yard. This was their only fresh air during the day. Very soon after she did that, she experienced reprisal. Guards disappeared suddenly, leaving her alone with inmates. Guards left her alone in the rec yard. Guards left her alone when she was conducting psychoeducational groups. So she kind of got the message that you don't say anything that might offend the guards. And as a consequence, as she discovers that the abuse is more and more severe, she does not speak out about it, and no one at the prison does.
AMY GOODMAN: When people speak out, they're called "hug-a-thugs"?
EYAL PRESS: Actually, that term, "hug-a-thug," is a kind of insult that is used to characterize therapists and counselors who are-who think that the inmates are victims, who think-you know, who sort of imagine, when they report abuse or complain about it, that it's real. "Oh, they're just naive." And actually, Harriet Krzykowski, this therapist, when she took the job, she didn't believe the inmates and their stories. She was quite skeptical. And I think George Mallinckrodt, as well, was skeptical. It took sort of quite a long time for them to kind of become aware that actually the abuse was real and that everything the inmates were telling them was actually happening.
AMY GOODMAN: Tell us the story of Harold Hempstead, and I'm going to bring Mr. Mallinckrodt into this, as well.
EYAL PRESS: So, the abuse-the murder in this story, that I wrote about, occurred in 2012, when an inmate named Darren Rainey, who was a schizophrenic-severely schizophrenic inmate, was locked in a shower stall and exposed to scalding water that was 180 degrees. He was left there for two hours. When his body was found, he had burns on 90 percent of his body. As I said, no one reported that incident, even though it was well known to the staff. The one person who did report it was an inmate named Harold Hempstead. It's the only reason, actually, that we know that Darren Rainey-that this happened to Darren Rainey and that investigations have subsequently begun into his death.
AMY GOODMAN: And, George Mallinckrodt, tell us about this other prisoner, Harold Hempstead, and what he talked about when he described what happened to Rainey.
GEORGE MALLINCKRODT: Well, he described a situation where he was in the first floor area below the shower, but he could hear Darren Rainey begging for his life. And from what I understand, Harold Hempstead is actually suffering from post-traumatic stress disorder as a consequence of this event, even though it's-June 23rd will be four years after his death. So, this deeply affected him. And I've always given Harold Hempstead a lot of credit for maintaining his perseverance in trying to get the Department of Corrections of Florida to open a case. And I found out about Darren Rainey two days after it happened, in a frantic phone call from a former co-worker. And I launched my own effort to get Darren Rainey justice, but it fell flat. And one of my responses was to write my book called Getting Away with Murder, never imagining that they could actually get away with murder.
AMY GOODMAN: And, I mean, explain what the shower is, the fact that he was burned on 90 percent of his body, and what Harold Hempstead heard, being imprisoned right below the shower, what he heard that day.
GEORGE MALLINCKRODT: Well, I know from working there that the water was extraordinarily hot. You could not hold your hand under it for a split second before it burned. But to hear Darren Rainey beg-he kept saying, "Please, let me out! Let me out! I won't do it no more!" And what he had done, apparently, was he defecated in his cell, and the guards' response was to put him in this scalding shower that was specially rigged, where Darren Rainey had no control over the water temperature. And we found out from other accounts that at least four other patients in the unit were tortured with this hot water treatment before they left Darren Rainey in there to die.
AMY GOODMAN: Talk about, Eyal Press, how he came to be known, Harold Hempstead, as "Miami Harold."
EYAL PRESS: So, Hempstead-actually, his counselors, he told me, when he first came to them and said, "Look, I want to report this. It's haunting me, and I'm disturbed by it," he was told, "Look, don't tell us too much. If you tell us too much, we'll have to write an incident report. If we write an incident report, that will get you in trouble." And, of course, what they also meant was it will get us in trouble, with the guards, with the DOC , the Department of Corrections. But Hempstead has been diagnosed with obsessive-compulsive disorder. He pressed on. He kept-he kept sending out these complaints, many of which he has sent me copies of. No one-
AMY GOODMAN: That's what it takes-
EYAL PRESS: Well-
AMY GOODMAN: -to get these complaints out, is obsessive-compulsive disorder?
EYAL PRESS: Essentially, yes. I mean, one would have to conclude. So he sends these out. He gets no response. He sends complaints to the Department of Corrections. No response-or, he gets a response, sorry, but they're taking no action. He sends complaints to the Miami-Dade medical examiner and to the police. Nothing happens until May of 2014, when the Miami Herald publishes a story about his allegations, a cover story. And he had essentially, with the help of his sister, reached out to an editor at the Herald, who ended up following up.
AMY GOODMAN: And he himself has an unbelievable story, Harold Hempstead, for how long he is serving in prison for the particular crimes he was convicted of.
EYAL PRESS: That's right. He was convicted of involvement in his early twenties in a string of burglaries. He is serving 165 years for that, 165 years. Since that time, he's been, as you mentioned, a whistleblower, who has risked his own safety to expose these abuses. And yet, there's been no indication from the governor of Florida that he will get clemency or that his case might be reconsidered. It's quite-it's quite an extraordinary story. And by the way, Florida is second in the nation when it comes to people serving lifetime sentences for nonviolent crimes.
AMY GOODMAN: As he told the Miami Herald and you noted in your piece, Eyal, he said, "You know, I made a lot of mistakes in my life, but nothing I did resulted in somebody dying." George Mallinckrodt, what happened to the guards who burned Rainey to death in that shower?
GEORGE MALLINCKRODT: Well, in the Florida Department of Corrections, there's very little accountability. Both of those guards ended up resigning, and one of them actually works for the Miami Gardens police, and the other works for the Bureau of Prisons. So, nothing has happened in the time since his death. No charges have been filed.
AMY GOODMAN: I want to ask you about another case, George Mallinckrodt, about Latandra Ellington, a prisoner who was found dead at Lowell Correctional Institution in Ocala, Florida, in 2014. She died just days after telling her family, fellow prisoners and officers at the women's state prison that a guard had threatened to kill her. Ellington's aunt, Algarene Jennings, spoke to the Miami Herald.
ALGARENE JENNINGS: September 21st, she wrote a letter to me, and she was telling me about he took her into some room and told her she talked too much, and he will muzzle her like a dog and kill her, and he ought to take his radio and bust her in her head with it. Latandra feared for her life. They told her what "Sergeant Q" would do to you. She was afraid of him. She told me she couldn't fight these people; and in the same line, she put in parentheses "the guards." "Please call, Auntie." And I did. I talked to Major Patterson on September the 30th. October the 1st, she was dead. Less than 18 hours after I talked to him, she was dead.
AMY GOODMAN: That was Algarene Jennings. Her niece, Latandra Ellington, was found dead at the Lowell Correctional Institution in Ocala, Florida, in 2014. Former Lowell Sergeant Berend Bergner also spoke to the Miami Herald. He said he faced reprisals for voicing concerns about Ellington's safety.
BEREND BERGNER: The tone of voice that she had, her crying, you can tell. Especially after 10 years of working with the department, you can actually really tell when an inmate is being sincere and when they're not sincere. And she just seemed so sincere and distraught. She started to tell me what she was upset about, and then some other inmates had come in the dorm, and then she automatically just stopped, and she kind of broke-you know, just stayed really quiet. And so, I had her fill out a witness statement.
After I took the report that morning from inmate Ellington, several staff members had threatened me for taking the report from that inmate, because they knew that it was true what she was putting in the report, and they didn't want that to get out. They actually pulled me off to the side, away from a bunch of the inmates and staff, and they threatened to take care of me in the parking lot, is what they told me.
AMY GOODMAN: That's former Lowell Sergeant Berend Bergner. George Mallinckrodt, he was speaking to the Miami Herald. Talk about this case. Also, for our listening audience, there was an image that passed by of the prison guard in a kind of Mr. America bodybuilder pose. Explain who he is, as well.
GEORGE MALLINCKRODT: Well, this was Sergeant Q. And she, Latandra, actually feared for her life, as he had made threats against her. And Latandra was a young woman with four children, and she was serving a short sentence. But the thing is, about the Florida Department of Corrections, this type of brutality and retaliation is the norm for any inmate that speaks up against a guard. Inmates will speak up, but they know they'll pay a price. Every single prison in Florida is rife with corruption. I've heard from inmates in-from all over the state, that no matter what you want in prison, if you have the money, you can get it. Cellphones, drugs, you name it, you can get it. And one way it gets in is with the guards. So any inmate that questions these types of activities, including fight clubs that guards, you know, have inmates perform in, there is retribution, retaliation. That's the norm. And so, it's not surprising that Latandra was killed. We've seen evidence of other inmates dying suspicious deaths, too, after they raised issues about guards' behavior.
AMY GOODMAN: George Mallinckrodt, in your experience working in the prison system, was a guard ever found guilty of abusing prisoners?
GEORGE MALLINCKRODT: Some recently have, but in my unit, that would be a resounding no. In fact, a co-worker was an eyewitness to a beating. She saw how guards handcuffed an inmate, threw him to the floor in a hallway where there were no cameras, and they started to kick the crap out of him, literally. And what happened from that was that she said on the incident report that she didn't see anything, because she feared retaliation. But in terms of what happened to the guards, absolutely nothing. And the sergeant who orchestrated the beating has since been promoted to lieutenant. And we're finding out that this is somewhat normal for the Florida Department of Corrections, as well.
AMY GOODMAN: Can you tell us, Eyal Press, about Daniel Geiger?
EYAL PRESS: Sure. In my New Yorker story, I mentioned that at least eight other inmates at Dade were put in the shower where Darren Rainey died. One of them was Daniel Geiger. He was put in there, from what we know, more than once, punished. And he's severely-he was suffering from mental illness, and this was the punishment administered to him when guards wanted to mete it out. I interviewed his mother, and, heartbreakingly, she was not aware that this had happened to her son. She was not aware that, as we also know now, he was among the inmates who was starved. She had spoken to him, and he seemed to be slurring his words, he seemed alarmingly thin to her-he had lost a lot of weight-but she didn't know the back story, that he was in this mental health ward where abuse was being administered systemically.
And I should say, and, you know, my New Yorker article makes very clear, that this wasn't just one case, it's not just one prison. But in a way, I think that as much as it's important for guards who do these things to be held accountable, in some respects the guards are the easy targets, and I think it would be a mistake to walk away from this saying, "Well, if we just hold a couple of guards accountable, we'll have accountability in the system." The problem is much, much deeper. The problem is that we've used prisons, in a sense, as a "safety net" for mentally ill people in this country, particularly poor people who become homeless, who then get involved in petty crimes and end up being funneled into the criminal justice system. And the very predictable result of that, when you put them in prisons where the security staff is not equipped to deal with them-they have not been trained to deal with him, they are understaffed, they are overworked-what's going to happen? Well, what's going to happen is a kind of system of sadistic abuse. And that's what I think George has described, and that's what the other people I interviewed witnessed and saw.
AMY GOODMAN: So what do you think has to happen?
EYAL PRESS: Well, I think, first of all, we have to expand the debate about mass incarceration to look at-not just at how many people we put in prisons, but the conditions that prevail within those prisons. This is a very hidden world. As a reporter, it's extremely difficult to get information. And if you don't have whistleblowers like George Mallinckrodt or people like I interviewed in my article who were willing to speak, you essentially don't hear about these things. It all takes place behind the walls. So, we have to expand the conversation, and we also have to expand the conversation about how we treat the mentally ill, who were released from state psychiatric hospitals decades ago and are now winding up in jails and prisons.
AMY GOODMAN: And, George Mallinckrodt, as a whistleblower yourself from the Florida prisons, what you feel needs to be done?
GEORGE MALLINCKRODT: Well, as a psychotherapist, my focus is on ending the mass incarceration of the severely mentally ill. And the primary way to do that is to address the source. Every single man and woman suffering from severe mental illness was a child once. The point being, we need to address this at a level in our schools and communities. The mental health safety nets that exist right now are just a patchwork quilt, and few people actually get the treatment that they need.
I once worked for a program that targeted middle school children that had some fairly serious psychiatric diagnoses, like schizophrenia, bipolar, major depressive disorder. And I worked in the Miami-Dade County public school system, which was the fourth-largest school system in the United States. That program has been ended, and the agency I worked for is now bankrupt. So, in this system, there is no way to treat these children that have these diagnoses.
So, we need to shore up our mental health safety nets for children, adolescents and young adults. And keep in mind that anybody with a lifelong history of mental illness, by the time they were 14, 50 percent of these people had symptoms. By the age of 24, 75 percent had symptoms. So, we're seeing this early, but we don't have the resources to deal with the problem. Think of it this way-
AMY GOODMAN: We have five seconds.
GEORGE MALLINCKRODT: Children who get-oh, children who get treated early, it's equivalent to a woman finding a lump in her breast early. That's the time to treat children.
AMY GOODMAN: George Mallinckrodt and Eyal Press, I want to thank you both for being with us. We're going to link to your piece, Eyal, "Madness," that's in The New Yorker magazine. And, George Mallinckrodt, thanks for joining us, whistleblower who lost his job after reporting prisoner abuse to-prisoner abuse of his patients at the Dade Correctional Institution's Transitional Care Unit in 2011.
That does it for our show. I'll be speaking tonight in Montclair, tomorrow night at Barnes & Noble Union Square in New York City.
TOP
---

Madness
In Florida prisons, mentally ill inmates have been tortured, driven to suicide, and killed by guards.
BY EYAL PRESS
A Reporter at Large MAY 2, 2016 ISSUE
Shortly after Harriet Krzykowski began working at the Dade Correctional Institution, in Florida, an inmate whispered to her, "You know they starve us, right?" It was the fall of 2010, and Krzykowski, a psychiatric technician, had been hired by Dade, which is forty miles south of Miami, to help prisoners with clinical behavioral problems follow their treatment plans. The inmate was housed in Dade's mental-health ward, the Transitional Care Unit, a cluster of buildings connected by breezeways and equipped with one-way mirrors and surveillance cameras. "I thought, Oh, this guy must be paranoid or schizophrenic," she said recently. Moreover, she'd been warned during her training that prisoners routinely made false accusations against guards. Then she heard an inmate in another wing of the T.C.U. complain that meal trays often arrived at his cell without food. After noticing that several prisoners were alarmingly thin, she decided to discuss the matter with Dr. Cristina Perez, who oversaw the inpatient unit.
Krzykowski, an unassuming woman with pale skin and blue eyes, was thirty at the time. The field of correctional psychology can attract idealists who tend to see all prisoners as society's victims and who distrust anyone wearing a security badge-corrections officers call such people "hug-a-thugs." But Krzykowski, who had not worked at a prison before, believed that corrections officers performed a difficult job that merited respect. And she assumed that the prison management did not tolerate any form of abusive behavior.
Perez was a slender, attractive woman in her forties, with an aloof manner. When Krzykowski told her that she'd heard "guys aren't getting fed," Perez did not seem especially concerned. "You can't trust what inmates say," she responded. Krzykowski noted that complaints were coming from disparate wings of the T.C.U. This was not unusual, Perez said, since inmates often devised innovative methods to "kite" messages across the facility.
Krzykowski mentioned that she had overheard security guards heckling prisoners. One officer had told an inmate, "Go ahead and kill yourself-no one will miss you." Again, Perez seemed unfazed. "It's just words," she said. Then, as Krzykowski recalls it, Perez leaned forward and gave her some advice: "You have to remember that we have to have a good working relationship with security."
Not long after this conversation, Krzykowski was working a Sunday shift, and a guard told her that, because of a staff shortage, T.C.U. inmates would not be allowed in the prison's recreation yard. The yard, a cement quadrangle with weeds sprouting through the cracks, had few amenities, but for many people in the T.C.U. it was the only place to get fresh air and exercise. Overseeing this activity was among Krzykowski's weekend responsibilities.
The following Sunday, access was denied again. The closures continued for weeks, and the explanations increasingly sounded like pretexts. When Krzykowski pressed a corrections officer about the matter, he told her, "It's God's day, and we're resting." In an e-mail to Perez, Krzykowski expressed her concern.
A few days later, Krzykowski was running a "psycho-educational group"-an hour-long session in which inmates gathered to talk while she observed their mood and affect. After a dozen inmates had filed into the room, she noticed that the guard who had been standing by the door had walked away. She was on her own. Krzykowski completed the session without incident, and decided that the guard must have been summoned to deal with an emergency. But later, when she was in the rec yard, the guard there disappeared, too, once more leaving her unprotected amid a group of inmates.
Around the same time, the metal doors that security officers controlled to regulate the traffic flow between prison units started opening more slowly for Krzykowski. Not infrequently, several minutes passed before a security officer buzzed her through, even when she was the only staff member in a hallway full of prisoners. Krzykowski tried not to appear flustered when this happened, but, she recalls, "it scared the hell out of me."
In theory, the T.C.U. was designed to provide mentally ill inmates with a safe environment in which they would receive treatment that might allow them to return to the main compound. Krzykowski discovered, however, that many inmates were locked up in single-person cells. Solitary confinement was supposed to be reserved for prisoners who had committed serious disciplinary infractions. In forced isolation, inmates often deteriorated rapidly. As Krzykowski put it, "So many guys would be mobile and interactive when they first came to the T.C.U., and then a few months later they would be sleeping in their cells in their own waste."
Not only did Krzykowski suspect that few inmates in the T.C.U. were getting better; she was certain that the guards were punishing her for the e-mail she had sent to Perez. But she was afraid to complain about her situation. She didn't even tell her husband, Steven, fearing he would insist that she give notice. He was an unemployed computer-systems engineer, and they could not afford to forgo her modest paycheck.
Krzykowski and her husband lived at her mother's house, in Miami, with their two young children. Her hourly wage was only twelve dollars, so she supplemented her income with food stamps and, occasionally, with loans from her mother and her sister. Krzykowski was accustomed to hardship. Born in a small town in northwestern Missouri, she was seven years old when her mother drove her and her older sister to a battered women's shelter to escape their father after he had hurled the family's pet cat against a wall. (He denies that this happened.) They moved to an even smaller town, in Illinois, where her mother took a job at a gas station. They required public assistance, and at home there was often little to eat.
After Krzykowski graduated from high school, in 1998, she and her mother moved to Miami. Her mother became a nurse, and Krzykowski enrolled at Florida International University , majoring in psychology. She got in touch with Steven, a childhood friend, and invited him to visit her. He showed up a few weeks later, and stayed; they married in 2007.
By then, Krzykowski had received a bachelor's degree in psychology, and had enrolled in a master's program in mental-health counselling. But Florida was in a deep recession, and Krzykowski had no luck finding work until she saw a listing posted by Correctional Medical Services, the private contractor in charge of providing mental-health services at Dade.
Even at the height of the economic crisis, jobs in corrections were plentiful in Florida-the state has the third-largest prison population in the country, behind Texas and California. Insuring that inmates with mental illnesses receive psychiatric care is a constitutional obligation, according to Estelle v. Gamble, a 1976 case in which the Supreme Court held that "deliberate indifference to serious medical needs of prisoners" amounted to cruel and unusual punishment.
Around the same time, the Court ruled, in O'Connor v. Donaldson, that a Florida man named Kenneth Donaldson had been kept against his will in a state psychiatric hospital for nearly fifteen years. The ruling added momentum to a nationwide campaign to "deinstitutionalize" the mentally ill. Activists decried the existence of mental hospitals that were filled, as one account put it, with "naked humans herded like cattle." During the next two decades, states across the country shut down such facilities, both to save money and to appease advocates pushing for reform. But instead of funding more humane modes of treatment-such as community mental-health centers that could help patients live independently-many states left the mentally ill to their own devices. Often, highly unstable people ended up on the streets, abusing drugs and committing crimes, which led them into the prison system.
By the nineties, prisons had become America's dominant mental-health institutions. The situation is particularly extreme in Florida, which spends less money per capita on mental health than any state except Idaho. Meanwhile, between 1996 and 2014, the number of Florida prisoners with mental disabilities grew by a hundred and fifty-three per cent.
The Supreme Court failed to clarify how psychiatric care could be provided in an environment where the paramount concern is security. According to medical ethicists, prison counsellors and psychologists often feel a "dual loyalty"-a tension between the impulse to defer to corrections officers and the duty to care for inmates. Because guards provide crucial protection to staff, it can be risky to disagree with them. But, if mental-health professionals coöperate too closely with security officials, they can become complicit in practices that harm patients.
After Krzykowski met with Perez, she told herself, "Maybe I'm being too sensitive-boys will be boys." Aware that she was a newcomer to the world of prisons, she decided that the corrections officers at Dade were far more qualified than she was to determine how to maintain order.
At a morning staff meeting in June, 2011, a psychotherapist at Dade named George Mallinckrodt aired a different view. The previous day, Mallinckrodt announced, an inmate had shown him a series of bruises on his chest and back. The injuries had been sustained, the inmate claimed, when a group of guards had dragged him, handcuffed, into a hallway and stomped on him. Several other inmates confirmed the account, Mallinckrodt told his colleagues. He accused Dade security officials of "sabotaging our caseload," and said that action needed to be taken.
In the days after the meeting, Krzykowski recalls thinking that "sabotaging" was "a pretty strong word-a loaded word." Mallinckrodt was known to be on friendly terms with some of the patients in the T.C.U., and Krzykowski felt that he had become too aligned with the inmates-"too much on their side." She told me, "I thought he'd become an advocate-you know, a hug-a-thug."
Krzykowski tried to focus on providing good care, but she discovered that she had limited power to make decisions. State law mandated that prisons offer inmates twenty hours of activities a week, and when she was hired she was told that she would be responsible for insuring that this happened in the T.C.U. But every time she proposed an activity-yoga, music therapy-her superiors rejected it. Invariably, the reason cited was that it posed a "security risk," even though the activities were meant to alleviate aggression.
One day, Krzykowski brought in a box of chalk, in the hope that inmates could draw on the pavement in the rec yard. On another occasion, she gave a rubber ball to an inmate who had schizophrenia; she thought that he would benefit from tactile play. An officer returned both items to her, ostensibly because they posed safety hazards. Krzykowski felt that she was being taught a lesson about knowing her place. "I kept getting the message that whatever security says goes," she said.
Krzykowski had heard enough stories about inmates assaulting prison staff to know how dangerous it was to work without protection. One day in the rec yard, after a guard left her alone, an inmate sidled up to her and put his hands on her backside. The inmate was tall and imposing, and had been diagnosed as psychotic. Krzykowski thought of screaming for help, but she sensed that the guard who had vanished would not come rushing back if she did. Instead, she froze. After a moment, she hurried away without looking back. The inmate didn't follow her. For days afterward, she was shaken. "He definitely could have overpowered me," she said. "I could have been assaulted, raped-anything."
Krzykowski's concerns kept mounting. In her view, the T.C.U. was unacceptably run-down: the walls were mildewed, the hallways were caked in grime, and the sewage system was often backed up. In the staff break room, cockroaches had overrun the kitchen area, infesting even the microwave. Oddly, the water from the kitchen faucet was scalding, so Krzykowski began using it to make ramen noodles for lunch.
One Saturday in June, 2012, Krzykowski was finishing a shift when she heard that an inmate in the T.C.U. named Darren Rainey had defecated in his cell and was refusing to clean it up. He was fifty years old, and, as Krzykowski recalls it, he gave people unnerving looks, "like he was trying to see inside you." He had been convicted of possession of cocaine, and suffered from severe schizophrenia.
"What's going on with Rainey?" Krzykowski asked a guard.
"Oh, don't worry, we'll put him in the shower," he told her.
Krzykowski remembers hearing this and feeling reassured. "I was thinking, O.K., lots of times people feel good after a shower, so maybe he will calm down. A nice, gentle shower with warm water."
The next day, Krzykowski learned from some nurses that a couple of guards had indeed escorted Rainey to the shower at about eight the previous night. But he hadn't made it back to his cell. He had collapsed while the water was running. At 10:07 P.M., he was pronounced dead.
Krzykowski assumed that he must have had a heart attack or somehow committed suicide. But the nurses said that Rainey had been locked in a stall whose water supply was delivered through a hose controlled by the guards. The water was a hundred and eighty degrees, hot enough to brew a cup of tea-or, as it soon occurred to Krzykowski, to cook a bowl of ramen noodles. (Someone had apparently tampered with the T.C.U.'s water heater.) It was later revealed that Rainey had burns on more than ninety per cent of his body, and that his skin fell off at the touch.
Krzykowski said to the nurses that, surely, there would be a criminal investigation.
"No," one of them told her. "They're gonna cover this up."
In the days after Rainey's death, Krzykowski learned from several inmates in the T.C.U. that Rainey was not the first person who had been locked in that shower; he was only the first to die there. Before this, she would have rolled her eyes had someone told her that the guards tortured inmates. She now asked herself how she could have been so blind. Nevertheless, Krzykowski did not file a report calling for the guards who killed Rainey to be held accountable-and no one else on the mental-health staff did, either. She told me, "I thought, Somebody has to report it, and it has got to come from the inside, but it's not going to be me." She was convinced that any employee who spoke out would be fired.
This was not an unreasonable concern. A year earlier, after George Mallinckrodt had heard about the guards stomping on the inmate, he had consulted the Web site of the Florida Department of Corrections. It stated that any employee who suspected the abuse of a prisoner was obligated to report it. He had subsequently heard from another counsellor that the attack had taken place in a hallway without cameras, and that she had witnessed it from a window that looked onto the corridor. The guards, she said, had stopped the attack when she started yelling. (These details matched accounts that Mallinckrodt later compiled from inmates.)
The counsellor had attended the staff meeting where Mallinckrodt spoke out, but she had remained silent. As incensed as she was, she later told Mallinckrodt, she did not intend to report anything, out of fear that the guards would turn on her next. Mallinckrodt's other colleagues also did not respond to his call for action.
In July, 2011, Mallinckrodt filed an incident report with both the Florida Department of Corrections and the Florida Inspector General's office. Around this time, a new warden, Jerry Cummings, arrived at Dade. Mallinckrodt told him about the alleged beating and other abuse that inmates had described, including instances of security officers taunting mentally ill prisoners until they screamed, banged their heads against the wall, or defecated in their cells, triggering yet more punishment from the guards. According to Mallinckrodt, Cummings responded with concern, leaving him optimistic that some changes might occur. (Cummings declined to be interviewed for this story.)
On August 31, 2011, an officer stopped Mallinckrodt at the entrance gate as he was returning from a lunch break. He'd just been fired, on the ground that he frequently took extraordinarily long lunches. Mallinckrodt does not deny this, but says that plenty of staff members did the same. (Several people confirmed to me that this was true.) Mallinckrodt was the only one who had voiced concerns about abuse.
In 2013, Krzykowski was promoted to staff counsellor, and began providing individual therapy for inmates. The work was more rewarding, but the conditions in the T.C.U. remained so stressful that her hair began to fall out in clumps. Embarrassed that her scalp was showing in spots, she took to wrapping scarves around her head.
Krzykowski recalled that, as a child, her sister had occasionally stood up to their father, whereas she had always tried to win his affection by impressing him; when this failed, as it invariably did, she retreated into herself. Now, once again, she was trapped in an environment where she felt afraid to speak out. Even observing misconduct in the T.C.U. was risky, since the guards were on alert for the presence of anyone who might potentially expose them. If abuse was happening, "the politically safest thing was to excuse yourself and go to the bathroom," Krzykowski said. "Don't be a witness."
In January, 2013, one of Krzykowski's new patients, a convicted burglar named Harold Hempstead, told her that he had information about Darren Rainey's murder. Hempstead, a wiry man with hazel eyes, occupied a cell that was directly below the shower where Rainey was tortured. That night, he heard Rainey screaming repeatedly, "Please take me out! I can't take it anymore!" He also heard him kick at the stall door. Eventually, there was a heavy thud, followed by the voices of guards calling for medical help. A short while later, Hempstead watched as a gurney with Rainey's naked body on it was wheeled past his cell.
Hempstead kept a diary, and in it he had recorded the names of four other inmates who had been subjected to what he called the "shower treatment." He had even noted the dimensions of the stall, surmising that an inmate locked inside it would likely have just enough room to avoid getting sprayed directly by the scalding water but not enough to prevent it from lapping at his feet. The stall had little ventilation, so steam built up. After nearly two hours in the shower, the steam caused Rainey to lose consciousness.
In the weeks after Rainey's death, Hempstead told several mental-health counsellors in the T.C.U. that he felt haunted by what he had heard and seen. They warned him that if he told them too much they would have to write an incident report, which would be forwarded to security officials, exposing him-and, by implication, them-to retaliation. Around this time, two of the guards who took Rainey to the shower, including a former football player named Roland Clarke, were promoted. (Both later resigned; their files included no indication of wrongdoing.) But Hempstead, who had been given a diagnosis of obsessive-compulsive disorder, wouldn't let the matter drop. He told Krzykowski that he had begun filing grievances about Rainey's murder.
Krzykowski wasn't sure if Hempstead, who professed to be a devout Christian, was motivated by compassion for Rainey or by a less high-minded impulse-a desire to embarrass Dade or to leverage a transfer out of the T.C.U. In the end, however, she encouraged him. "I thought that, therapeutically, writing it all down would be good for him," she said. This advice was consistent with her general approach, which was to try to make small differences in the lives of the people under her care while ignoring problems that she lacked the power to solve. Krzykowski was the only mental-health professional at Dade who did not pressure Hempstead to remain silent about Rainey's death, and he was grateful to her. He asked Krzykowski whether she would back him up if he succeeded in drawing attention to the abuses at Dade. "I said, 'Well, yeah,'" she told me. "But I didn't honestly know if I would honor that."
On May 17, 2014, Julie Brown, of the Miami Herald, published an article in the paper about the abuse of mentally ill inmates in the T.C.U. at Dade. Below the headline was a photograph of Darren Rainey, dressed in prison blues. Brown's main source was Hempstead, who had turned over copies of the complaints that Krzykowski had encouraged him to write. The article indicated that Hempstead, after being interviewed, had been threatened with solitary confinement and other forms of punishment by three corrections officers.
After the Herald article appeared, Jerry Cummings, the warden, was placed on administrative leave, and many people questioned whether the Department of Corrections had tried to cover up a case of lethal abuse. Far less attention was paid to why an inmate had exposed it, rather than one of the prison's mental-health or medical professionals. The duty to protect patients from harm is a core principle of medical ethics. According to the National Commission on Correctional Health Care, an offshoot of the American Medical Association which issues standards of care for prisons, any mental-health professional who is aware of abuse is obligated "to report this activity to the appropriate authorities."
In a recent survey by the Bureau of Correctional Health Services, in New York City, more than a third of mental-health personnel working in prisons admitted to feeling "that their ethics were regularly compromised in their work setting." There was a pervasive fear that "security staff might retaliate if health staff reported patient abuse." Violence toward inmates flourished at the city's main prison, Rikers Island, and it was often ignored by the dozens of counsellors and psychologists on staff. One counsellor who did not ignore it was Randi Cawley. In December, 2012, she reported having seen guards beat an adolescent inmate who was handcuffed to a gurney. But other witnesses refused to confirm her account, and Cawley began receiving threats: dead flowers placed on her computer, ominous phone calls. She felt so unsafe inside Rikers that she quit.
In May, 2015, Jamie Fellner, a senior adviser at Human Rights Watch, released a report documenting the use of force in U.S. prisons against inmates with mental disabilities. The report, titled "Callous and Cruel," offers a grim account of tools that are routinely used to incapacitate and punish the estimated three hundred and sixty thousand prisoners with serious mental illnesses: full-body restraints, chemical sprays, stun guns, extended solitary confinement. "Mental-health staff in prisons all too often acquiesce," Fellner told me. "There is this culture of 'It's none of our business' . . . which means that nobody ends up advocating for the patient."
Kenneth Appelbaum, a psychiatrist who spent nearly a decade as the mental-health director of the Massachusetts Department of Corrections, agrees that deference to guards is common. He also faults professional organizations such as the American Psychiatric Association for paying little attention to the ethical challenges facing their members who work in prisons. At the A.P.A.'s annual meetings, Appelbaum says, "barely one per cent of the sessions have anything to do with care and treatment in a correctional setting." He adds, "Prisons are where so many of the sickest people with the most serious psychiatric disorders in our society end up, and as a profession we constantly lament this. Yet our professional organizations are not very engaged in asking how we should care for patients in those settings." The lack of engagement, he says, likely reflects the fact that the vast majority of élite psychologists have no experience in prisons, and consider such work beneath them.
By the time the Herald article on Darren Rainey's death appeared, Krzykowski was no longer working at Dade. She had quit in 2013, and she and Steven had moved back to Missouri to be closer to his mother, who had health problems. When I met Krzykowski, in March, 2015, she told me that she had tried to forget about her experiences at the prison. But after learning about the Herald story Krzykowski became depressed. She couldn't eat, and she lost so much hair that she shaved the rest off.
At our meeting, she was wearing jeans, a simple blouse, and a black wig. She recalled, "There was one particular night I couldn't sleep because I was crying too hard, thinking, Oh, my God, all this time has gone by and I didn't say anything, even when I was out of the situation. I let it continue. These guys are still suffering. They're still there. Why didn't I do more?"
In April, 2015, I had lunch in Miami with another former employee in the Dade T.C.U., a behavioral-health technician named Lovita Richardson. She told me that, when she started the job, she "couldn't wait to get to work." But one morning, at around ten-thirty, she walked out of the nurse's station and saw, through a glass wall, a group of guards pummelling an inmate who was handcuffed. They took turns administering the blows while one of them stood watch. The inmate was a tiny man, "maybe a hundred and ten pounds soaking wet," Richardson said. She stood there, in stunned silence, until the lookout guard spotted her.
She wanted to report what she'd seen, but a co-worker warned her that she would be imperilling herself. In the days that followed, the guards involved in the beating dropped by Richardson's office to tell her that they had "taken care" of everything. Their tone was polite, but the message was clear, she said: "We're running this place, this is our house-you're just visiting." Richardson started having nightmares, and questioned what kind of person she was. "It makes you feel like you're letting them down," she told me, tears filling her eyes. "They are at risk for their very life, and you know it, but you're not helping them out." (Disturbed by her experience at Dade, Richardson quit after less than a year on the job.)
The co-worker who advised Richardson also spoke to me, though she did not want her name to be published. She understood Richardson's feelings of guilt, because she was the mental-health counsellor who had witnessed the stomping incident. After seeing that, she recalls, "I wanted to cry-I wanted to scream." Yet, when she was instructed to fill out a report, she wrote that she hadn't seen anything.
In September, 2013, a forty-year-old inmate in the T.C.U. named Richard Mair hanged himself. A note was found tucked into the waistband of his boxer shorts. It was written in a fury-Mair called it his "FUCK THE WORLD" note-and it contained racist comments about black prisoners. But it was dominated by accusations of mistreatment in the T.C.U., which, he said, was "supposed to be therapeutic." Mair wrote that guards punished inmates by putting them on a "starvation diet," and that a crew on the night shift pulled inmates out of their cells, arranged for them to fight, and placed "bets on winners." One guard, whom Mair named, had ordered him to "strip out" and then, promising cigarettes in return, commanded, "Stick a finger in your hole." Mair refused. "He knew I'd gotten raped," he wrote, and went on, "I'm supposed to be getting help for my depression, suicidal tendencies, and I was sexually assaulted." Mair said that he filed "grievance #AW13-08-126," but a security lieutenant intercepted it. The lieutenant, Mair wrote, "slammed me against the wall, kicked me in the groin . . . and told me to keep my mouth shut or else."
The co-worker who advised Richardson found out about Mair's suicide note, and felt that his charges should be investigated. But she feared that her life would be in danger if she pursued the matter, and she was sure that she would receive no support from her supervisor, Cristina Perez.
Reached by phone, Perez declined to comment, telling me that I could direct any questions to Wexford Health Sources, the private contractor that now provides mental-health services at Dade. In 2013, Florida privatized all the health services in its prisons. According to a series of investigative articles by Pat Beall, of the Palm Beach Post, this policy change has resulted in grossly substandard care. One difficulty with entrusting mental-health services to a for-profit company is that there is a disincentive to acknowledge abuse, because doing so could jeopardize the contract. Wexford's Web site describes "integrity and ethics" as the "foundation" of the company's culture. Wexford, too, declined to comment.
Not long ago, I met with Mallinckrodt. He is six feet three, with a lanky, athletic build. Though he didn't fear for his physical safety during the three years he worked at Dade, he nearly had a nervous breakdown. When he was fired, he almost found it a relief. He, too, was plagued by awful memories, among them an exchange that he had with an inmate who kept flinging his food tray at the window of his cell, as though it were a Frisbee. After failing to persuade him to stop, Mallinckrodt concluded that the inmate was in the throes of a psychotic episode. He also noted, with surprise, that there were no food stains on the window. Only later, when he heard about inmates receiving empty meal trays as a form of punishment, did he realize that the prisoner was outraged because the guards were starving him. "I was seeing inmate abuse, but I was labelling it as 'Oh, he's psychologically compromised,'" Mallinckrodt told me. In 2015, Mallinckrodt self-published a memoir, "Getting Away with Murder." In one passage, a prisoner tells Mallinckrodt about an inmate who, after receiving an empty food tray, stuck his arm through the flap on his cell door, demanding something to eat. A guard grabbed the inmate's arm; then another officer came over and kicked the door flap, smashing the arm again and again. Mallinckrodt talks to the victim, who shows him his bruises, and reports the incident. Nothing is done.
Harriet Krzykowski also had the impulse to document her worst experiences at Dade. Halfway through our first conversation, she handed me a manuscript of fifty-two single-spaced pages. She wrote it in feverish outbursts, she said, sometimes jotting down details on her arm when she didn't have paper or a laptop nearby. She called the manuscript, which wasn't finished, a "trauma narrative." (She'd been seeing a therapist.) In it, she recalls seeing a guard repeatedly taunting an inmate by calling him Tampon, until the inmate flew into a rage. When Krzykowski asked the guard about the insult, he said, "He got his ass raped, and now he needs a tampon to stop the bleeding." Krzykowski later spoke with a nurse, who confirmed that the inmate had been sexually assaulted.
At our second meeting, Krzykowski showed me excerpts from a diary that a T.C.U. inmate had shared with her-scraps of paper that were covered in a looping, childlike script. The inmate was a convicted drug dealer with a range of physical and mental disabilities. At one point, he had been hospitalized after he had tried to swallow pieces of his wheelchair. He was a victim of childhood abuse, and his wife and two daughters had died in a car accident. This won him no sympathy from one of the guards, who called him a "loser" and once tipped him out of his wheelchair. Krzykowski said of the inmate, "This is a real person, with a real life."
Sometime later, I met Harold Hempstead, Krzykowski's former patient, at the Columbia Correctional Institution, in Lake City, Florida. He had been transferred there in 2014, after his sister, Windy, convinced officials at Dade that his life would be in danger if he remained there. We spoke for an hour in a featureless gray room while a sergeant stood watch. Hempstead said that after Rainey's murder several mental-health counsellors urged him to stop "obsessing" over the crime. One told him that he was being "delusional"; another cautioned him to keep any accusations "vague." Hempstead acknowledged the pressure that mental-health counsellors in the T.C.U. were under. "Their hands were tied," he said. But too many of them had internalized the view that the inmates in the unit deserved rough treatment. If more counsellors had been willing to stand up for the prisoners, he said, "the majority of that stuff wouldn't have happened."
Hempstead told me that he had a confession to make. A few weeks before Rainey died, he had informed a guard that there appeared to be dried excrement on a Koran that Rainey owned. The guard seized the Koran and, over Rainey's protests, threw it away. Rainey later confronted Hempstead and called him an "effing cracker." Hempstead said that he regretted talking to the guard, because losing the Koran had caused Rainey to have a breakdown that made him a target of prison staff.
The only therapist who had helped him with such feelings was Krzykowski, whom he affectionately called Ms. K. "She would actually listen," he said. "She attempted to enroll me in some classes dealing with trauma." He paused. "I really didn't like to see her go."
Earlier this year, the Miami-Dade medical examiner delivered a copy of Rainey's autopsy report to state prosecutors. The report has not been made public, but its contents were leaked to the media. It concluded that the guards at Dade had "no intent" to harm Rainey, and that his death was "accidental." This was technically correct-the aim of the "shower treatment" was to punish and torture Rainey, not to murder him. But the report implicitly absolved the guards, at least legally. No criminal investigation was recommended. Howard Simon, the executive director of the Florida A.C.L.U., criticized the report, telling the Herald that it underscored the need for a federal investigation.
At least eight other inmates in the T.C.U. endured abuse in a scalding shower. Among them was Daniel Geiger, who is now at the Lake Correctional Institute, near Clermont , Florida. When I spoke with his mother, Debra, who lives in North Carolina, she told me that she had not seen her son in several years, because prison officials had denied him visitation rights, claiming that he was dangerously unstable. She said that she had last talked to him in 2012, on the phone, shortly after he was transferred out of Dade. It was a brief conversation, and he appeared to have been overmedicated: he spoke with a slur and could not pronounce simple words. He told her that his weight had dropped from a hundred and seventy-eight pounds to a hundred and five. Although she was alarmed by this news, she did not suspect that he had been abused, only that "something was being hidden" from her. (The Department of Corrections says that she initially "asked about visitation," but hadn't actually attempted to schedule a visit. When she did make a request, according to department records, she was informed that her son was "not approved for visits at that time.")
I told Debra Geiger that, according to several sources, her son had been forced multiple times into the same shower where Rainey had died. He was also among the inmates who had been denied meals. "I'm heartbroken," she said, her voice cracking. When we spoke again, a few days later, she told me that she had called the Lake Correctional Institute and learned that her son was being given two psychiatric medications, to which he was allergic. Later, she sent the facility a note from her son's former psychiatrist, Dr. James Larson, confirming the allergies. She received a two-line response, saying that the information would be forwarded to the medical staff. She has no idea if the treatment has been discontinued. "It's hard for me to digest all of this," she told me. She compares the treatment of mentally ill inmates to the detention of suspected terrorists at Guantánamo.
In late February, Geiger was finally permitted to visit her son. She described him to me as being "at death's door," a gaunt figure with sunken eyes who mistook her for his wife and growled at the guards when they called his name. His arms were skeletal-"no wider than my wrists," she said-and there were deep-red marks on his neck. When she asked him what had happened at Dade, he peered up at the ceiling, pressed his face against the glass partition separating them, and said, "I don't want to talk about it." She said that when her son was taking the right combination of medications he was relatively stable-a point that she impressed on the warden before leaving. "I told him that I kept him more or less normal for thirty-three years, and you all have destroyed him in seven," she said.
In September, 2014, Disability Rights Florida, an advocacy organization, filed a lawsuit charging the Florida Department of Corrections with subjecting mentally ill inmates at Dade to "abuse and discrimination on a systematic and regular basis." According to the terms of a settlement reached last year, the Department of Corrections agreed to make several changes, including the installation of a new camera system at Dade, better training of guards, and the hiring of an assistant warden of mental health.
One morning this past September, I drove to Dade to meet the new assistant warden, Glenn Morris. The prison is on the outskirts of the Everglades , on a two-lane road flanked by fields and by signs advertising alligator farms and airboat rides. Morris met me at the prison's public entrance. We passed through a metal detector and beyond a heavy steel door that opened onto a cement path. After walking a quarter of a mile across the prison campus, we arrived at a cream-colored building with a sign saying "TRANSITIONAL CARE UNIT." The path wasn't shaded and, although it was early, the heat was stifling. Much to my relief, the air-conditioning inside the T.C.U. was functioning well. (Krzykowski told me that when she worked there it was often broken.) The walls were a dull gray, but the place looked clean: an orderly in faded scrubs was sweeping the cement floor. We walked down a nurses' hall and stopped at the entrance to the west wing, a cavernous chamber lined with single-person cells, each of which had a small rectangular window.
Morris told me that the inmates were out in the rec yard. He pointed to several TV sets that had been installed recently. On one wall, an inmate had painted a mural-a cheerful ocean scene.
"When I first got here, the mentality was 'This is confinement,'" Morris told me. "I had to change that." The Department of Corrections now has an "open cell" policy at Dade, which is supposed to allow lower-risk inmates to move around more freely.
Earlier, Morris had introduced me to the unit's major, a large man with a broad smile, and to several corrections officers. All of them were recent hires. When we crossed to the east side of the T.C.U., which houses inmates who are deemed more stable, a staff meeting was ending, and Morris introduced me to Cristina Perez. "She does a very good job," he said. Dressed casually in sneakers and sweatpants, Perez extended her hand. "Nice to meet you. Oh . . . ," she stammered, evidently recalling that we had spoken on the phone. She smiled uneasily and walked away.
Afterward, in an office, I asked Morris if the desire to appease security might affect how well mental-health counsellors did their jobs. "Dr. Perez, I'm sure, tells her staff to report things to her," he said. "And I'm very confident that if she found out something she would report it to us." I said that I had heard otherwise. Morris rolled his eyes, telling me that he assumed my understanding came from a "disgruntled" ex-employee-meaning George Mallinckrodt. I said that other former employees had the same misgivings. "Obviously, that was way before my time," he said.
Morris came across as well-intentioned, but his assurance that inmates were getting their "basic needs" met was disputed by a source who spoke to me confidentially. Prisoners, I was told, still came to the inpatient unit of the T.C.U. and languished after being placed in what amounted to solitary confinement. Many prisoners received no treatment at all. In one case that was described to me, a young inmate afflicted with paranoia had been degenerating for more than a year. Though he was not disruptive, he had spent prolonged periods in lockdown, because he had stopped taking his medication. Nobody had encouraged him to try different medication; nobody had tried to engage him in activities that might have lessened his feelings of distrust. As a result, the source said, the patient was "undergoing a quiet decompensation where he just gets sicker and sicker."
The mental-health staff continued to defer to security, acquiescing when inmates were disciplined for misconduct that was clearly related to their illnesses. An inmate with diagnosed impulse-control problems had his privileges taken away after an outburst. Mental-health officials checked a box indicating that the inmate's issues had played no role.
Bob Greifinger, a professor at the John Jay College of Criminal Justice who studies mental-health conditions in prisons, told me that routine neglect is no less pernicious than flagrant abuse. "Most of the coercion that happens goes relatively unrecognized," he said. "There are very few people who can step back and say, 'Hey, wait a minute-the guards are trying to interfere with my taking care of my patients.' "One observer who sat in on a recent staff meeting at Dade said that the counsellors and the psychiatrists seemed "oblivious" of the mental-health needs of the inmates.
The civil-rights division of the Justice Department has launched an investigation to determine whether the death of Darren Rainey is part of a broader pattern of abuse. It is not the first time that the Florida prison system has been the subject of federal scrutiny. In 2006, the secretary of Florida's Department of Corrections, James V. Crosby, was sentenced to eight years behind bars for accepting kickbacks from prison venders. Ron McAndrew, a former warden, told me that while Crosby was in office guards regularly beat up inmates for sport. (Crosby himself was the warden of a prison where, in 1999, an inmate named Frank Valdes was brutally beaten to death.) Crosby's successor at the D.O.C., James McDonough, dismissed dozens of prison officials who were suspected of corruption. Yet tougher sentencing laws filled Florida's prisons beyond capacity, and the system was weakened by severe budget cuts. In 2011, the Correctional Medical Authority, an independent agency that monitors the medical and mental-health care of inmates, was gutted. Additional savings have come from extensive layoffs, which result in guards at many prisons having to work twelve-hour shifts. Placing the staff under such stress only increases the likelihood of abuse.
Julie Jones, the current D.O.C. secretary, has promised to change the culture of Florida's prisons. A few months after taking office, she issued a "statement on retaliation," in which she vowed that no employee "who comes forward with an issue of concern would face retaliation." On the wall of the main administrative building at Dade, I spotted a framed copy of the statement. A few months earlier, however, Jones had circulated a memo requiring all D.O.C. inspectors to sign confidentiality agreements about any investigations they conducted. Some employees viewed this as the equivalent of a gag order.
In 2013, four senior inspectors employed by the D.O.C. alleged that Randall Jordan-Aparo, an inmate at a prison south of Tallahassee, had needlessly suffocated to death. Corrections officers had sprayed Jordan-Aparo with chemicals, even though he suffered from a disorder that compromised his lungs. The inspectors also alleged that Jordan-Aparo had committed no disciplinary infractions; he had angered corrections officers by demanding medical attention. Two years ago, the inspectors sued the D.O.C. and Jeffrey Beasley, its inspector general, claiming that their inquiry had led to retaliation. (According to the Department of Corrections, the inspectors' cases were dismissed.)
Krzykowski, who now works as a counsellor at an agency for at-risk youth, was clearly appalled by the behavior of some security guards at Dade, but she didn't seem to blame them. Many of the guards she met were decent people who treated the inmates with respect, she told me. And the ones who were abusive, she suggested, acted in ways that are to be expected in a society that has resumed warehousing mentally ill people like Darren Rainey, as if they were beyond hope.
Before I left Missouri, Krzykowski told me that she wanted to take me to a place called the Glore Psychiatric Museum, in St. Joseph. The museum, which occupies a drab brick building, offers an unsettling commentary on how people with mental disabilities have been treated in the past. We walked through a series of rooms filled with arcane devices-a fever cabinet, a lobotomy table. At one point, we stood before a full-scale replica of a nineteenth-century cell at the hospital of Salpêtrière, in Paris. Michel Foucault wrote about the hospital in his 1961 book, "Madness and Civilization," and he called the era it represented "the Great Confinement." Krzykowski peered into the cell, a dingy chamber littered with straw, and read the label on the wall:
At the hospital of Salpêtrière the insane were kept in narrow filthy cells. . . . When frostbite resulted, as it often did, no medical help was available. Food was a ration of bread once a day, sometimes supplemented by thin gruel. The greatest indignity was the chains.
Afterward, we sat in a gazebo outside. "We don't learn very fast," she said.
As I subsequently found out, the Glore Psychiatric Museum is situated in the medical wing of a former state psychiatric hospital. Curious to see the main compound, which closed in 1997, I went back a few days later. Following a narrow walkway shaded by pines, I arrived at a more secluded area, where the hospital's residential quarters once stood. The path ended at a security barrier. A chain-link fence topped with razor wire now encircles what the hospital once known as State Lunatic Asylum No. 2 has become: a prison.
---

Florida's Department of Corrections: A Culture of Corruption, Abuse and Deaths
February 2, 2016 by David Reutter
Florida, with the nation's third-largest prison system, has a long and sordid history of abusing, neglecting and even killing its prisoners. Because most state prisons are in insular rural areas, the general public, aside from those with incarcerated loved ones or friends, has minimal awareness of what really occurs within facilities operated by the Florida Department of Corrections (FDOC) or its private contractors.
The FDOC has historically strived to preserve this lack of transparency by obfuscating the actual happenings in its prisons. The department's modus operandi is to portray itself as a professional state agency that protects citizens from dangerous criminals, which requires an ever-increasing share of taxpayer dollars to keep society safe from a growing prison population.
Keeping its dirty laundry in-house is an administrative priority. Occasionally, however, particularly egregious incidents belie the FDOC's carefully crafted vision statement of "changing lives to ensure a safer Florida," and the public gets a glimpse of the reality behind prison walls.
For months after death row prisoner Frank Valdes died at the Florida State Prison on July 17, 1999, FDOC officials maintained that he committed suicide by diving head-first off his bunk, striking the bars in his cell. An autopsy, however, clearly indicated that bootprints were found on his body and that he had been savagely beaten by guards. Valdes' family received a $750,000 settlement, though the guards charged with killing him were eventually acquitted at trial.
The FDOC's reputation as a professionally staffed and managed agency took another blow in 2006 when the state's Corrections Secretary, James V. Crosby, and his main lieutenant were indicted on federal corruption charges related to a kickback scheme. In the wake of that scandal, Crosby and his sidekick served time in prison and several other officials were fired for illegally using prisoner labor.
Aside from regular changes at the FDOC's top post, the department has been able to keep its dirty laundry in the closet in recent years. However, its cloak of secrecy unraveled in the wake of a Miami Herald feature story about a prisoner who was scalded to death in a shower closet in a confinement unit at Dade Correctional Institution (DCI). Darren Rainey, 50, who was serving a two-year sentence for drug possession, was killed at DCI on June 23, 2012.
Rainey suffered from mental illness and had defecated in his cell. When he refused to clean up the mess, he was placed in a small shower for almost two hours under scalding hot water. According to other prisoners in the unit, the shower was used as punishment for prisoners who angered the guards; in the 30 minutes before Rainey collapsed, he reportedly screamed and pleaded for help.
"How do you like your shower?" one guard taunted him, said prisoner Mark Joiner. "He was crying, please stop, please stop," but the guards said "Enjoy your shower" and left.
The 180-degree water left Rainey's skin peeling from his body. When an infirmary nurse took his temperature, it registered 102 degrees. He died shortly afterwards.
Joiner was ordered by guards to clean up the "crime scene"; he was provided with bleach and gloves, and found one blue canvas shoe in the shower plus large pieces of skin that had been boiled off Rainey's body. "I just kept shoving it in the shoe," he said. "And then I asked, 'what do you want me to do with it?' And [the guard] said just throw it in the trash. So I did."
The Metro-Dade police department was called to the prison but did little investigating, failing to even keep the 911 tape. Two years later an autopsy report had not been issued; Rainey's death seemed to have been forgotten, just like other abuses in FDOC facilities. Then the Miami-Herald began to investigate after learning of efforts by prisoners such as Joiner and Harold Hampstead to bring Rainey's death to light. The Herald's news report eventually blew the cover off several other incidents, resulting in widespread publicity and political fallout.
Gassed to Death
Following the Herald's report nearly two years after Rainey's scalding death at DCI, several FDOC investigators filed a whistleblower suit claiming they faced retaliation when they tried to expose corruption, brutality and officially sanctioned gang violence within the prison system.
Their complaint revealed details surrounding the September 2010 death of Randall Jordan-Aparo, who was serving an 18-month sentence for credit card fraud and drug charges, in a confinement unit at the Franklin Correctional Institution (FCI).
FDOC investigator Aubrey P. Land had been dispatched to FCI in early 2013 to look into problems at the facility.
"We got inmates down there that are getting their throats slashed on a regular basis," he said in an interview with Melinda Miguel, Governor Rick Scott's Inspector General. "Their faces slashed, beat down with locks and socks; tremendous amount of contraband allegations that staff is ordering this and bringing in contraband and being paid and everyone we're talking to is saying, 'You know they killed that kid.'"
Unlike many prison employees, Land not only listened but investigated. "So, finally, I had heard enough, and I said go back and start looking at all the deaths," he stated. "Nobody would give me a name, and I find Randall Jordan-Aparo and immediately bells and whistles start going off. This thing ain't pretty."
On September 15, 2010, Jordan-Aparo, 27, complained of back pain after falling while playing basketball. He collapsed several times over the next few days, and was taken to the infirmary three times with a 102-degree temperature. Nurse Martha Greene performed an electrocardiogram but admitted she was not proficient at reading the results. Nonetheless, she concluded his heart was working properly.
The on-call prison physician, Dr. Mohammad Choudhary, instructed Greene to begin an IV and keep Jordan-Aparo in the infirmary. The nurses were unable to insert the IV after several attempts, so they gave up and left him in the infirmary.
At about 4 a.m. on September 18, Jordan-Aparo complained to LPN Lucy Franklin about pain and requested to be sent to a hospital. After his request was denied, Jordan-Aparo said, "I'm going to sue your fucking ass. I need to go to the hospital."
Greene called security, and without consulting a doctor Capt. Mitchell Brown ordered that Jordan-Aparo be placed in an isolation cell for causing a "disturbance." A pre-confinement physical alleged he "had no known medical conditions that would be exacerbated by the use of chemical agents," despite his medical records indicating he had a disease that could cause respiratory difficulties.
According to prisoner witnesses, Sgt. Kevin "Bit Jit" Hampton told Jordan-Aparo, "Ain't nobody comin' to help you." He then ordered him to "man up" and be quiet.
With the approval of Col. Timothy Copeland at 11:25 a.m., Lt. Rollin "Suttie" Austin ordered Jordan-Aparo to be gassed. Over the next 40 minutes he was sprayed three times with chemical agents. The first two times were three bursts per application of pepper spray; the third was three bursts of tear gas, which causes severe burning in the lungs.
Just 10 minutes of exposure to tear gas in such a confined space could be lethal, said Sven-Eric Jordt, an associate professor in anesthesiology at Duke University. "Obviously, the agent was sprayed directly on to the inmate and may have deposited on his skin, clothing, eyes, and mouth at much higher concentrations, with less of it airborne, making the concentrations that much higher."
Guards said they then "escorted" Jordan-Aparo to a shower closet for decontamination. According to other prisoners he was dragged. Photographs and additional evidence put the guards' claims of decontamination efforts in question, the Miami Herald reported.
"He was orange," one prisoner told investigators. The photos they viewed in 2013 showed Jordan-Aparo's body still coated with orange tear gas residue. They also found the cell had residue everywhere; the floor was smeared with orange, which also covered the sink and toilet, and there was a dense orange cloud above the top bunk. Although guards said they had provided Jordan-Aparo with fresh clothes, he was in dirty, orange-stained boxers when later found dead in his cell.
"I can't take it, I can't take the gas, I can't breathe," he cried out while being tear gassed, according to a prisoner witness. Jordan-Aparo was seen at 12:30 p.m. by prison nurses Franklin and Riley. Because he was allegedly uncooperative, despite video showing he was so weak coming out of the shower that a wheelchair was required, Riley was unable to obtain a blood pressure reading. Dr. Choudhary ordered over the phone that his blood pressure be taken, but the nurses instead allowed guards to take him back to his isolation cell. Two hours later, the nurses made another attempt to take Jordan-Aparo's blood pressure. He was unable to move, refused to cooperate and would not sign a release form, according to prison records.
At 4:30 p.m., Sgt. Hampton found Jordan-Aparo sprawled on the floor of his cell when serving the dinner meal. He allegedly refused to eat but gave a "thumbs up" sign. Jordan-Aparo was not checked on again until 6:08 p.m. At that time his lifeless body was discovered with "his mouth and nose pressed to the bottom of the door, as if trying to gulp fresh air through the thin crack," the Herald reported. A paperback bible was lying under his shoulder.
"I've done this for 30 years. My skin doesn't crawl very often," said Land, the FDOC investigator. "They killed that damn kid. He laid there for five days begging for help." An autopsy found Jordan-Aparo's death was caused by a rare blood disorder that was treatable.
Previously, another prisoner had died after being gassed by guards - Rommell Johnson, 44, who died at the Northwest Florida Reception Center in June 2010. Although he had chronic asthma, his death was found to be accidental by a medical examiner and the FDOC's inspector general. His mother received a $175,000 settlement after filing a lawsuit. However, Johnson's death was opened for reexamination in March 2015 following widespread publicity related to other prisoners' deaths.
Abuse and Deaths Widespread
News reports concerning the deaths of Rainey and Jordan-Aparo resulted in public scrutiny of other unnatural deaths within Florida's prison system, including the September 4, 2012 death of Frank Smith, 44, at the Union Correctional Institution (UCI). That investigation also revealed guards had used excessive force against five other prisoners.
The FDOC placed nine guards and an assistant warden on paid leave while it examined Smith's death, which occurred after an altercation with prison staff. Nearly two years later his death remained under review. Meanwhile, the suspended guards received almost $700,000 while on paid leave. The Florida Department of Law Enforcement (FDLE) was reviewing the case but had no deadline for completing its investigation.
"There's no time line that I can give you," said FDLE Commissioner Gerald Bailey - who was forced to resign in December 2014 due to conflicts with Governor Scott's office, and who later called the governor a liar for saying he had voluntarily stepped down.
Shortly after Darren Rainey's death was reported by the Miami Herald, prisoner Damion Foster, 36, was found dead following an altercation with guards in a mental health unit at the Charlotte Correctional Institution (CCI).
Foster's May 22, 2014 death came less than a month after the death of another CCI prisoner, Matthew Walker. Details about both deaths were sketchy, as is typical when guards kill prisoners. Sources said that Walker, 45, argued with a female guard during a late-night cell compliance check, then was killed after other guards rushed in to subdue him. He died due to a crushed larynx that led to asphyxiation; a county grand jury found that his death, which was ruled a homicide, was "tragic, senseless and avoidable." No guards faced criminal charges.
The FDOC fired nine CCI guards for "inappropriate use of force" in connection with Walker's death, but gave no details. Eight of those guards were later reinstated. Further, on September 19, 2014, known by guard union officials as a "Friday Night Massacre," a total of 32 guards were terminated by the FDOC. Five were fired for using excessive force in the August 2012 death of UCI prisoner Rudolf Rowe; also terminated was Lt. Rollin Austin for his role in Jordan-Aparo's death.
The firings were meant to send guards a message. "I've made it clear that there is zero tolerance for corruption or abuse," said then-FDOC Secretary Michael Crews. "We continue to root out any and all bad actors who do not live up to our expectations."
Less than a month after the mass firing, however, another prisoner was found dead in a confinement cell. Lowell Correctional Institution (LCI) prisoner Latandra Ellington, 36, a mother of four serving a 22-month sentence for grand theft, died on October 1, 2014. That was just 10 days after she sent a letter to her aunt saying she was in fear for her life.
Ellington wrote that she feared "Sgt. Q," who was later identified as FDOC Sgt. Patrick Quercioli. "He was gone [sic] beat me to death and mess me like a dog," she wrote. "He was all in my face. Sgt. Q then he grab his radio and said he was gone bust me in the head with it...."
As a result of Ellington's allegations she was placed in a confinement unit for protection, where she was found unresponsive in her cell. The medical examiner determined her death was due to medical causes, though her family suspected foul play.
Union officials said Sgt. Quercioli was on vacation when Ellington died. Prisoners who contacted the Miami Herald claimed another guard had encouraged Ellington to complain about Quercioli's threats, then escorted her to confinement the day she died. They urged officials to check surveillance video to see if that guard was the last one to see her alive. The prisoners also wrote that Ellington's prior cellmate had been threatened by guards, who allegedly told her that if she talked, "The same thing that happened to [Ellington] would happen to her."
"Our families think that we come here and we're safe, but that's not the case," wrote one prisoner who had spent a decade at the prison. "I've seen a lot of injustices, but no one cares, and as a means of survival you learn to turn your head and stay silent in order to stay alive."
A second, independent autopsy arranged by Ellington's family found she had lethal levels of blood pressure medication in her system; her family also said there were bruises on her body and a cut on her face. Ellington's sister has since filed a wrongful death suit.
Sgt. Quercioli, who had a criminal record before he joined the FDOC, was terminated on August 4, 2015; another officer who allegedly threatened Ellington, Dustin Thrasher, also was fired. No criminal charges were filed.
Four unexplained deaths occurred at LCI in 2014. They remain "under investigation." Also under investigation are FDOC guards Lance Ingram and Phillip Joyner, who were suspended with pay while a prisoner's claim of sexual assault was investigated. The unnamed prisoner alleged he was victimized by the guards on August 7, 2014 at the Reception and Medical Center in Lake Butler. Video from a handheld recorder and a wall-mounted camera were taken as evidence. The prisoner had filed an earlier grievance claiming he was sexually assaulted on July 30, stating, "I am not going to continue to take this abuse."
In addition to cases where prisoners have been killed by guards' use of excessive force, there are also cases where guards have ordered a hit on a prisoner to have him "removed" - permanently. For example, former FDOC Sergeants Robert Simmons and Delrikos A. Brooks face numerous felony charges, including ordering the murder of Taylor Correctional Institution (TCI) prisoner David Powell.
Authorities allege Sgt. Brooks received up to $24,000 to make eight trips to Tampa to pick up drugs and cell phones from prisoner David Cancel's brother. Cancel, a one-time high-ranking gang member, then sold the contraband to other prisoners. Brooks was described as an "alpha" member of TCI's Bloods gang.
A hit was placed on Powell after he caught Sgt. Brooks giving a cell phone to another prisoner. When he threatened to expose Brooks, Simmons spread the word among prison gang members that Powell was a snitch. The next day several prisoners jumped Powell on the recreation yard and stabbed him, though he escaped serious injury.
Brooks and Simmons then sent another prisoner to kill Powell the next day. The plot proceeded with the help of former FDOC guard Valshantaya Cook, who is accused of letting prisoner Ernest Harrington into Powell's unit. Harrington stabbed Powell, but again he wasn't seriously injured.
Cook was subsequently charged with multiple felonies, including money laundering, smuggling contraband into the prison and aggravated assault with a deadly weapon. In addition to the charge related to ordering a hit on Powell, Brooks and Simmons face charges for money laundering and directing gang activities.
Beyond Brooks, Cook and Simmons, several other FDOC employees have been charged with abusing or assaulting prisoners.
Six guards - a captain and five sergeants - were arrested in September 2014 and charged with using chemical spray on prisoner Jeremiah L. Tatum, 31, and hitting and kicking him while he was in hand and ankle restraints. They then lied about the August 5, 2014 incident, which occurred at the Northwest Florida Reception Center, falsely claiming that Tatum had spit at one of the officers. Those arrested and fired included Sgts. William Finch, James Perkins, Robert Miller, Christopher Christmas and Dalton Riley, plus Captain James Kirkland. Kirkland later committed suicide.
Also in September 2014, Disability Rights Florida, an organization that advocates for the rights of the disabled, filed suit against the FDOC, seeking an injunction to ensure that mentally ill prisoners at DCI are not subject to abuse by staff. The case settled in April 2015, with state prison officials agreeing to provide Crisis Intervention Training to all staff at DCI, to provide supervisory training and specialized training for guards who work directly with mentally ill prisoners, to upgrade the facility's video camera system, to fully staff the facility, and to create a mental health ombudsman's position at DCI and the FDOC's Region III office, among other provisions.
Beyond deaths due to excessive force or other incidents involving staff members, an increasing number of Florida prisoners have died due to inadequate medical care. In 2014 the FDOC reported a record 346 prisoner deaths, most from "natural causes," though 176 had no immediate cause of death listed and there were 15 homicides - three involving guards.
The uptick in deaths began shortly after the state contracted with Corizon, a for-profit company, to provide healthcare at most Florida prisons, with competitor Wexford Health Sources providing services at a smaller number of facilities. Following extensive criticism of the quality of Corizon's medical care, as well as fines for failing to meet state standards, the company announced in November 2015 that it was terminating its $1.2 billion, five-year contract with the FDOC, which began in 2013.
PLN will cover Corizon's provision of medical care to Florida prisoners and its decision to cancel its contract in greater depth in a future issue.
A Cultural Problem?
"Here, you see the death of a scalded inmate and vicious beatings of others with all sorts of suspicious circumstances," said James R. McDonough, a former Army colonel who was brought in to serve as the FDOC's Secretary after James Crosby was indicted. "These are the same signs I noticed when I walked in the door in 2006 - and it should be sending off alarm signals."
After McDonough stepped down in early 2008, he was replaced by Walter A. McNeil, during whose tenure Florida's prison population topped 100,000 prisoners for the first time. McNeil was replaced by Edwin G. Buss in 2011, though Buss didn't stay long in office - he was forced out by the governor due to differences over management styles and issues related to prison privatization eight months later. [See: PLN, Feb. 2012, p.1]. Buss was replaced by Kenneth S. Tucker, who served for just over a year.
The FDOC Secretary position was then filled by Michael D. Crews effective December 17, 2012, who said the agency was not indifferent to incidents involving abusive guards.
"We had the allegations, but we try to make our decisions based on fact," he stated. "It's not cultural. It's easy to think that, when you have eight, 10, whatever the number of criminal investigations going on in the agency right now, but I can tell you it is a handful and they are the minority in our department going forward."
His opinion was not shared by many critics, including the guards' union. "We believe this is not the case of a few bad apples as explained by the administration, but is symptomatic of larger problems within [the prison system]," noted Bill Curtis, spokesman for Teamsters Local 2011, which has represented FDOC guards since 2011. State prison guards were previously represented by the Florida Police Benevolent Association.
"You lead by example and you've got to start at the top and set the standard," said Curtis. "I'm not telling you that people shouldn't be disciplined, but taking it out to the first line of officers doesn't fix your middle management or your upper management."
"These revelations that are coming out are not about incompetence," added Howard Simon, executive director of the ACLU of Florida. "They're about guards killing people and public officials working feverishly to cover it up."
Former FDOC guards Ken Smith and Joe Facenda agreed with those positions. Both had worked at CCI, and Smith called the prison "really unsafe at this point."
"Almost nothing operated the way we were taught it should operate," Facenda stated. "I came home, I don't know how many times, dumbfounded at what went on there ... other officers telling you when, where, and how you can get away with roughing up an inmate."
In his resignation letter, Facenda wrote that he had to deal with prisoners alone, was told where guards could beat prisoners without being seen, had to train a new employee after being there only a month himself, and said the majority of security checks that were supposed to occur did not.
George C. Mallinckrodt, a mental health counselor who worked at DCI from 2008 to 2011, said guards "taunted, abused, beat, and tortured chronically mentally ill inmates on a regular basis," hoping to provoke a response that would justify the use of force.
He described a June 2011 incident involving prisoner Joseph Swilling, who guards handcuffed behind his back before leading him to an off-camera area, where they threw him to the floor and repeatedly kicked him. The beating would have continued unchecked, but one of Mallinckrodt's co-workers pounded on a window yelling, "Stop! Stop! Stop!" Yet out of fear of retaliation, that co-worker wrote in a subsequent incident report that "he/she did not see anything," Mallinckrodt said in a Miami Herald editorial.
To keep counselors quiet, the "guards' strategy was to simply leave the counselor alone with the inmate," he wrote. "And, what we've seen is that the line officers who commit these acts are supported by their administrators, by their lieutenants, by the major, they're all either condoning the activity, or they're covering it up; it goes all the way to the warden."
Mallinckrodt, however, refused to remain silent. "And so I developed incident reports and some of them involved guards in the unit and so, I started to get dirty looks and I was feeling the avalanche of abuse stories. And, my stress level was through the roof," he continued. Mallinckodt was fired for taking long lunches, which he said was his coping strategy. That was a pretext, he claimed, "because they wanted me silenced."
He said a standard investigation would be useless. "Clever guards, administrators, and wardens always put on a show for visiting VIP's," he noted. "I know this from the many dog and pony shows I have witnessed in my unit."
Mallinckrodt wrote a book about his experiences with the FDOC, published in 2014 and appropriately titled Getting Away with Murder .
Prisoner Richard S. Mair, 40, committed suicide in DCI's mental health unit on September 11, 2013. In a note written before he killed himself, he said he had been sexually assaulted and it was standard practice for guards to force prisoners in the unit to commit sex acts and to threaten them if they filed complaints. Mair's note named guards who gambled on duty, sold marijuana and cigarettes, and stole money and property from prisoners. "If they don't like you, they put you on a starvation diet," he said in the note, which was found hidden in his pants after he hanged himself.
The Miami Herald reported there was "no evidence that the state inspector general's probe into Mair's death addressed any allegations in the suicide note."
The career of Jerry Cummings exhibits the cultural problem of entrenched cronyism that permeates the FDOC and leads to abuses. Cummings was the warden at Tomoka Correctional Institution when guard Donna Fitzgerald was found dead, slumped over a pushcart with her pants pulled down on June 25, 2008; she had been murdered by prisoner Enoch Hall. [See: PLN, March 2010, p.1; Nov. 2008, p.50]. The FDOC's inspector general's office faulted Cummings and his top commanders for gross negligence and ineptitude that resulted in serious security breaches which contributed to Fitzgerald's death.
Demotions and reassignments were handed down. Yet by the time Darren Rainey died, Cummings was the warden at DCI - a facility so out of control that it allowed guards to scald a prisoner to death without consequences or even a serious investigation. Instead, the FDOC suspended Cummings and several of his top staffers in May 2014 after an inspection found the prison's chowhall was overrun with rats and roaches.
As the heat continued to be applied over Rainey's death was reported, Secretary Crews took action to "restore integrity" to the state's prison system. He fired Cummings in July 2014, hoping that action would "send a message."
"It's great the Department of Corrections is taking tighter control of the reins," said ACLU of Florida director Simon. "But firing the warden, while not holding the guards who were clearly responsible for Darren Rainey's brutal murder, and keeping them on the job and promoting them doesn't make a lot of sense."
Simon was referring to two guards involved in Rainey's death, Cornelius Thompson and Roland Clarke, who were promoted afterwards. Both subsequently resigned from the FDOC.
Rollin Austin, one of the guards fired in the "Friday Night Massacre" who was involved in Jordan-Aparo's death, had a prior criminal record for theft and DUI, and previously had been demoted from captain to lieutenant for using excessive force. After Jordan-Aparo died he was again promoted to captain. His climb up the FDOC's ladder was halted only after scrutiny of Jordan-Aparo's death resulted in media attention and pressure from outside the department.
Indeed, outside pressure is apparently the only thing that is effective in making the FDOC take action. Following Ellington's death at LCI, state prison officials were forced to conduct an investigation. In the course of that probe they uncovered the conduct of LCI assistant warden Marty Martinez, known as "Daddy" or "Marty" to his favorite female prisoners.
According to a 56-page FDOC inspector general's report, Martinez would spend extended periods of time talking with young, pretty white or Hispanic women. Guards said prisoners would line up waiting to talk to "Daddy" and take turns visiting his office, passing him notes and requesting special favors. Jealous fights would ensue between prisoners vying for his attention.
"Nobody ever caught him in the act, but we all saw him locked in there with them," a guard said in a sworn statement about female prisoners spending 10 to 60 minutes in Martinez's office.
The investigation also noted that LCI guard John Meekins filed a police report stating Martinez had threatened him. "You're going to get your ass beat in the parking lot after work," the assistant warden allegedly told Meekins in front of two other guards after Meekins conducted a shakedown that resulted in the confiscation of contraband from two of Martinez's alleged favorite prisoners.
As noted above, the FDOC's leadership has changed seven times over the past nine years, which is viewed as a contributor to the department's culture of corruption.
"We've gone through far too many secretaries at the Department of Corrections and that lack of continuity has created an atmosphere where people are able to believe they will outlive the tenure of the secretary," said state Rep. Matt Gaetz, who previously chaired the House Criminal Justice Subcommittee.
One former Florida senator said the problems in the FDOC reach to the upper echelons of state government.
"You know the governor is now on his third Department of Corrections Secretary in less than four years, and you've had deaths in the prison system, you've had cover ups, you've had Inspector Generals who were trying to get that information out," said Paula Dockery, who was a state senator for 16 years and served as chair of the Senate's Criminal Justice Committee, in an October 2014 news report. "You've got it going all the way up to the head Inspector General under the Governor, in the Governor's office, and I think there's some real problems with the way the administration is handling the Department of Corrections."
Blowing the Whistle
The systemic abuse, corruption and misconduct in the FDOC was exposed not only by the Miami Herald and other news agencies, but also by the filing of a whistleblower lawsuit by several FDOC investigators. Their complaint detailed the circumstances surrounding Jordan-Aparo's death and alleged that prisoners were beaten or tortured, guards smuggled drugs and other contraband in exchange for bribes and sexual favors, and guards used gang members as enforcers. They also said they had faced retaliation for trying to expose the corruption.
As Dockery noted, the cover-ups go beyond the FDOC. An anonymous letter sent by a person identifying himself as a "high-ranking" prison employee, addressed to Governor Scott, was stamped received by his Chief Inspector General, Melinda Miguel, on October 25, 2012. The letter contained "strikingly accurate details about the gruesome deaths" of prisoners Jordan-Aparo and Darren Rainey. Miguel, however, took no action on the matter, turning it over to FDOC inspector general Jeffrey Beasley.
Beasley's office conducted a "cursory review," finding some staff violations in Jordan-Aparos' death and noting that Rainey's death was being handled by Miami-Dade police. The review concluded that "this inquiry [will] be closed with no further action taken."
In March 2014, FDOC investigators Aubrey Land, David Clark, Doug Glisson, John Ulm and James Padgett took the information they had concerning Jordan-Aparo's death to Miguel, requesting whistleblower protection. She denied their request. She also denied that protection to Christina Bullins, a probation officer who tried to raise alarms after her brother, Joseph Auram, told her he feared for his safety after witnessing what happened to Jordan-Aparo while he was incarcerated at FCI.
The FDOC investigators said they faced "false and unwarranted" internal affairs complaints after they were denied whistleblower protection. Bullins was fired, but prison officials said her termination was due to taking unapproved leave time.
"Probation officer Bullins was an exemplary DOC employee who was treated rudely and not shown the same consideration as other employees with serious medical issues," countered union spokesman Curtis. "It was convenient to dismiss her and try to keep her quiet." Auram said guards told him he had cost his sister her job after they learned she was raising concerns about Jordan-Aparo's death.
The investigators' federal whistleblower suit was dismissed in March 2015, as the district court found they had raised their concerns as public employees, not as private citizens. Further, the court wrote, "Plaintiffs have cited no cases clearly establishing that a decision to deny whistle-blower status or protection to a complainant constitutes either an adverse employment action or the denial of a public benefit for purposes of a First Amendment retaliation claim." The investigators filed an appeal with the Eleventh Circuit, but their appeal was dismissed on May 27, 2015 for lack of jurisdiction. Bullins was granted leave to amend her complaint and her claims remain pending. See: Land v. FDOC, U.S.D.C. (N.D. Fla.), Case No. 4:14-cv-00347-WS-CAS.
While their legal challenge may not bear fruit, the investigators' exposure of issues related to prisoner deaths, as well as the concurrent media coverage, lit a fire under both the FDOC and state lawmakers. The investigation into Darren Rainey's death was reopened, while state and federal officials began reviewing Jordan-Aparo's death and the unnatural deaths of 104 other Florida prisoners.
The Miami-Herald obtained emails from FDOC officials related to Rainey's death, which showed great concern for how reports were worded but not much concern about the fact that he died.
"This is not necessarily true; we did not know what the cause of death is for ... Rainey," stated an email from then-Warden Cummings to prison staffers. "I think we should wait until an autopsy report is completed before such information is published."
Dena Tate, the senior health administrator at DCI, replied via email, "I agree, staff will be informed to watch verbiage when reporting incidents without final reports or investigations."
"The email thread shows great concern with the verbiage used in speaking about the death and matters related to it," said former FDOC Secretary McDonough. "The emails show little concern with the substance of the investigation."
FDOC Leadership Changes ... Again
After months of scrutiny, FDOC Secretary Crews decided he had had enough and stepped down on November 24, 2014. "I have not resigned," he said. "I am retiring from state government."
The consensus was that Crews did not have time to effect the needed changes in the state's prison system, and that fault with the pervasive staff misconduct did not lie with him.
"The last several secretaries have not been the problem," observed Allison DeFoor, chairman of Florida State University's Project on Accountable Justice. "Again, we're still dancing around the elephant in the room - the problem is not at the secretary level. It's structural."
"Secretary Crews didn't have enough time to make the type of lasting impact that I think is needed," added state Senator Rob Bradley. "It's going to take sustained, consistent leadership to make real change there."
To lead the FDOC with "accountability and integrity," Governor Scott appointed a "true reformer" to head the department: Julie L. Jones, who took office on January 5, 2015. Jones had worked for 26 years at the Florida Fish and Wildlife Conservation Commission, including a role as Director of Law Enforcement, and five years as executive director of the Florida Department of Highway Safety and Motor Vehicles.
Jones was retired from state government at the time she was appointed; her new position with the FDOC means she will receive a $160,000 salary plus $9,700 in monthly retirement benefits. She began with a 100-day plan and tough talk.
"Nobody in this system is going to get a free pass," Jones said. "I will also maintain that zero tolerance for corruption, for just basic human rights, and how we treat people. A lot of the intimidation in this system is because they can get away with it. That's not right." In her first few months on the job she fired 51 FDOC employees.
After Jones took office, Crews backed her by stating the FDOC was underfunded and understaffed. The department had run an annual deficit of several hundred thousand dollars for the past few years. As a result, the physical infrastructure of FDOC buildings and the agency's vehicles had deteriorated.
Crews said that as the state's prison population expanded, the FDOC's budget and staffing levels had decreased. The result was an increase in prisoner deaths, use of force incidents and attacks on guards.
According to FDOC statistical data, use of force incidents against prisoners increased over 90% from 2007 to 2012. In 2012, the department reported approximately 6,500 incidents involving use of force. Prisoner deaths grew from 249 in 2007 to 346 in 2014.
As pressure intensified due to staff misconduct and prisoner deaths, Secretary Crews said the governor's office went into damage-control mode. "I guess you can say they were more concerned with the crafting and writing of news releases and that had little to do with the reality of what needed to be done to keep the institutions safe and secure," he said.
The legislature weighed in when it went into session, holding hearings. In March 2015, three investigators and one former investigator from the FDOC's inspector general's office testified before the Senate Criminal Justice Committee. They cited cases where they were instructed to withhold information from prosecutors, to close investigations involving politically-connected staff members and to avoid bringing criminal charges despite evidence of crimes.
"We are at the point where we can no longer police ourselves," declared John Ulm, a veteran FDOC investigator. "We can't do it alone. We need some oversight. The organized crime, the murder, the assaults, the victimization that goes on in there every day is horrendous."
Gulf County Sheriff Mike Harrison said that in his two years with the FDOC's inspector general's office, he was twice told not to pursue investigations. He was called off a case involving the warden and assistant warden at the Calhoun Correctional Institution, who were accused of intimidating witnesses involving contraband being smuggled into the facility. The other case involved a nurse's actions that resulted in "two inmates almost losing their lives" at the Jackson Correctional Institution. The charges were "covered up," said Harrison, based on a relationship the warden was having with the nurse.
In addition, FDOC investigator Doug Glisson testified that he was told to drop a case against a prison employee who had a "Capitol connection."
"There was a clear message there, and it had a chilling effect," he said.
Further, investigator Land testified that "professional courtesy" was given as the reason for dropping a case against a prison guard whose brother worked under FDOC inspector general Jeffrey Beasley. The guard was accused of accepting bribes and sexual favors to give a woman access to a prisoner with whom she was having a romantic relationship.
While such testimony did not sit well with FDOC administrators, as it tarnished their image as public safety professionals, Secretary Jones pledged that employees who wanted to appear before the legislature would not be punished.
Yet just two days after Beasley was grilled by lawmakers, who afterwards called for his removal, the FDOC's inspector general's office imposed a gag order on its investigators - they were forced to sign confidentiality agreements prohibiting them from providing information to outsiders, even members of the legislature, concerning ongoing or closed cases. Any violation of the gag order could result in "immediate termination."
"This right here is a slap in my face," said state Senator Greg Evers, chairman of the Senate Criminal Justice Committee. "I have not asked the [inspector general] for a copy of anything that should not be a public record, and I am repulsed to think that he would send a letter to his staff to not release information that would be in the sunshine [public records law] otherwise."
FDOC Secretary Jones was not pleased with the investigators who testified, calling them "disgruntled employees" who did "not have the best interests of the agency at heart." She added, "I do not agree with the majority of the [investigators'] testimony," saying it represented "one view of several incidents that happened years ago."
Six FDOC investigators filed a lawsuit in state court challenging the confidentiality agreements that prohibited them from disclosing information. Their complaint was dismissed, however, and on December 28, 2015 the First District Court of Appeal affirmed the dismissal.
Meanwhile, the state Senate passed a 51-page bill that would have created an independent oversight board to review the FDOC's budget, discipline and investigations. The House whittled the bill down to 12 pages, removing the oversight board. In the end, the House ended its session three days early over a budget squabble, effectively killing the prison reform bill.
"I don't think you're going to be able to hire Superman who is going to be able to show up and reform the whole place," opined state Rep. Carlos Trujillo. "I think it's a combination of having additional oversight ... that truly drills down and identifies issues."
With legislative reform efforts dead in the water, Governor Scott issued an executive order in May 2015 that requires the FDOC to maintain "a retaliation-free environment, both for staff and inmates." Each of the department's four regional directors are to make "at least two unannounced visits" to each prison quarterly. The order also requires tracking and reporting of use of force incidents.
Additionally, federal and state officials continue to investigate the deaths of Darren Rainey and other prisoners, and on October 15, 2015 a coalition of advocacy groups submitted a letter to the U.S. Department of Justice (DOJ), requesting intervention by that agency's civil rights division. The letter was signed by 13 organizations - including the ACLU of Florida, Stop Prison Abuse Now, the National Alliance on Mental Illness, Florida Institutional Legal Services, the Florida Justice Institute, the Florida Conference of NAACP Branches and the Human Rights Defense Center (the parent organization of Prison Legal News) - and urged the DOJ "to open a thorough investigation as to whether these conditions [in the prison system] and the brutal deaths that have resulted violate constitutional standards or statutory requirements such as those set forth in the Civil Rights of Institutionalized Persons Act."
Structural Defects Remain
"Right now, we do have facilities where people take liberties," Secretary Jones acknowledged. "They've done it the way their daddy did it and their granddaddy did it." She said additional staff training would help change the FDOC's culture.
That remains to be seen. What is certain is that even in the high-profile atmosphere that has prevailed since Darren Rainey's scalding death was first reported, not much has changed.
Columbia Correctional Institution prisoner Shurick Lewis, 41, was allegedly kicked by three guards on February 11, 2015, just a month after Jones took office; the assault left him bloodied and bruised on his cell floor with a broken nose and fractured facial bones. Two of the guards, Donald Sims and Sgt. Christopher Jernigan, were fired and charged with aggravated battery and failure to report.
In early April 2015, three current or former FDOC guards were charged with conspiracy to murder a former prisoner. Thomas J. Driver, 25, David E. Moran, 47, and Charles T. Newcomb, 42, were identified as Ku Klux Klan members. Driver and Moran were guards at the Reception and Medical Center in Lake Butler at the time of their arrest; Newcomb had previously worked at the facility.
The men were caught on surveillance video with an FBI informant discussing a plot to kidnap the former prisoner, who was not identified, take him to a remote location and kill him "by injecting him in the neck with insulin."
The FBI informant offered to contact a "professional" to take care of the victim. When contacted, the former prisoner said he had had an altercation with one of the guards. A homicide scene was staged, and Driver and Moran reportedly smiled when shown pictures of the former prisoner's supposed death, before they were arrested.
Meanwhile, FDOC employees continue to assault prisoners. Guards William J. Ray and Corry B. Fletcher were charged in federal court in June 2015 with beating an unidentified FCI prisoner without justification and obstructing justice by lying to investigators. The following month, FDOC guard Justin Clemons and former guard Cody Gabbard were charged with battery, conspiracy to commit battery and falsifying official records, in connection with assaulting a prisoner at UCI.
A July 22, 2015 incident at the Sumter Correctional Institution resulted in guard Russell Sullivan being arrested and charged with misdemeanor battery for intentionally shoving a prisoner into a metal gate, causing facial lacerations and a broken tooth. Sullivan was released from jail on a $1,000 bond.
And in August 2015 two more guards, Kiree Twiggs and Jo Ann Lopez, were charged with using excessive force against prisoners. Both were fired from their positions at the Suwannee Correctional Institution. The improper use of force included spraying chemical agents on two prisoners and slamming them to the ground without provocation, then falsifying reports about the incident.
"The Florida Department of Corrections expects our officers to act with integrity, professionalism and courage," Secretary Jones wrote in a press release after Sullivan was arrested. Apparently, however, such expectations are not always met.
These incidents beg the question - how many other abuses by staff still occur in Florida's prison system and remain undisclosed because employees fear retaliation from their peers or superiors if they come forward? Recent news reports of rampant sexual misconduct and abuse involving guards at the Lowell Correctional Institution, published in December 2015, have continued to put FDOC officials on the defensive.
"It's not a crisis situation. It's much worse than that," said Allison DeFoor with Florida State University's Project on Accountable Justice. "This thing is really bad, we believe its structural. Not everybody in the system is bad, but how many bad apples does it take to ruin a basket?"
In response to the numerous deficiencies in the state's prison system, FDOC officials have most recently sought an increase in the department's budget to hire hundreds of additional guards. But simply adding more staff without addressing the long-standing culture of abuse and malfeasance will only contribute to the problem, not solve it.
Mallinckrodt, the former mental health counselor who lost his job at DCI after trying to expose abuses at that facility, summed up the issue when he said problems continue to occur in Florida prisons because the FDOC is "plagued by a deeply entrenched, multi-generational culture of corruption, retaliation, brutality and secrecy."
Thus far, there is no evidence that that culture has changed.
[Update: In January 2016, the medical examiner's office released a report that found Darren Rainey's scalding death was "accidental."]
Sources: Miami Herald, www.tampabay.com, News Service of Florida, www.naplesnews.com, www.tallahassee.com, Lakeland Ledger, www.wideawakeamerica.com, www.npr.org, www.huffingtonpost.com, Panama City News Herald, www.wtsp.com, www.news.wfsu.org, Orlando Weekly, www.times.com, www.washingtonpost.com, www.jcfloridan.com, www.wftv.com, http://georgemallinckrodt.blogspot.com, www.dailycommercial.com
---
The Florida Department of Corrections (FDC) has now BANNED the 2nd Edition of:
BANNED BOOK UPDATE - FEB 25, 2016: I spoke to Benjamin Stevenson, an attorney from the ACLU, who said during a meeting to discuss the possibility a First Amendment lawsuit, it was decided they could not proceed due to limited funds. For now the issue is closed unless I can find a law school interested in project for constitutional law.
BANNED BOOK UPDATE - FEB 15, 2016: Florida Department of Corrections, Literature Review Committee, bans the 2nd Edition of Getting Away with Murder.
BANNED BOOK UPDATE - JAN 11, 2016: ACLU petitions Literature Review Committee to approve the 2nd Edition of Getting Away With Murder for distribution to inmates on First Amendment grounds.
DEC 29, 2015 - A source inside the Florida DOC said on condition of anonymity, "This book could cause a prison riot!" Another department official cited this rationale for the ban: "It's a true story, right?" "Right." "That would have been one of the reasons.had it been a novel or fiction it would've been OK."
Buy the book banned by the
Florida Department of Corrections!
---
---

Former Prison Counselor Recounts The Horrors The Mentally Ill Endure
BY NICOLE FLATOW POSTED ON MAY 12, 2015
As prisons and jails increasingly house mentally ill individuals who might in past eras have gone to a psychiatric institution, these inmates have become disproportionate targets of abuse. This mistreatment ranges from punitive chemical sprays and stun guns, to being strapped into chairs or beds for days, to severe beatings or death, according to a Human Rights Watch report released Tuesday.
Corrections officials "break their jaws, noses, ribs; or leave them with lacerations, second degree burns, deep bruises, and damaged internal organs," the report explains. "The violence can traumatize already vulnerable men and women, aggravating their symptoms and making future mental health treatment more difficult. In some cases, including several documented in this report, the use of force has caused or contributed to prisoners' deaths."
Amidst this violence, there are individuals whose job it is to treat these inmates, often in conditions that are inherently in tension with their illness. George Mallinckrodt was one of those people. He worked as a mental health counselor at the psychiatric ward in Florida where Darren Rainey was later scalded to death in a 160-degree shower.
Mallinckrodt was not a first-hand witness to any incidents like Rainey's, although he later devoted so much time to investigating the incident that he published a book on the topic. Rather, he said, he witnessed daily abuse of a population segregated precisely because of their severe mental illness.
"What other job can you possibly imagine where people on your caseload
are beaten?"
Particularly after his experience as an advocate in Florida, where stories of inmates who were gassed to death and scalded to death were revealed only after state prison inspectors came forward to blow the whistle on rampant suppression of abuse, Mallinckrodt suspects that what the public knows may be just a small fraction of what's really going on behind bars.
"In terms of magnitude, [prison abuse] makes police brutality look like a drop in the bucket," Mallinckrodt told ThinkProgress. "There aren't people in jails with cell phones taking footage of abuse. That's the problem. It's happening in secret. And we hear dribs and drabs of stories but that only scratches the surface really."
Mallinckrodt, one of the few people to come forward publicly about his experiences inside Florida prisons, talked to ThinkProgress about what was like to work in a unit for inmates with severe mental diagnoses such as paranoid schizophrenia, in an environment that exacerbated their condition.
"What other job can you possibly imagine where people on your caseload are beaten?" Mallinkcrodt said, speaking to ThinkProgress from his Miami Beach home. "It was just was so alien to me and something I had to navigate pretty much on my own because the [Department of Corrections] and Corizon Health offer no training whatsoever in recognizing abuse. And so literally for years, I was seeing more minor forms of abuse but just writing it off as another bad day in prison."
Evidence of this abuse included bruises and scars, reports of beatings from other staff members who were afraid to report incidents. Evidence that inmates were not being fed. Bogus disciplinary reports that meant the removal of basic inmate privileges. And most prominently, the taunting of inmates.
"You know we had a sergeant," Mallinkcrodt said. "Every morning he went to one side of the unit where there was a man who was severely mentally ill. He would get him riled up and that guy would bang his head on the door or yell out for hours. I mean the mentally ill have a stamina you would not believe. I mean you and I. We could fake mental illness for about 15 minutes and then we'd just get tired."
"In terms of magnitude, [prison abuse] makes police brutality look like a drop in the bucket."
The guard would then go to the other side of the unit and to the "other guy he could get riled up and that guy would go off for hours. And that's inmate abuse. We didn't need the guards to make people more crazy." What's more, Mallinkcrodt said, the guards were sabotaging the therapeutic work he was trying to do with these inmates. He characterized some of them as "sadistic sociopaths."
Mallinckrodt recounted one story involving an inmate who had been making some of the most significant progress during therapy sessions. Mallinckrodt entered this inmate's unit one day to find him with an open gash on his head, blood on the floor and on the window. The inmate told him two "linebacker-sized guards" smashed him into the concrete floor. In the days and weeks after the incident, the inmate's progress reversed; he "decompensated." And one day, he attacked Mallinckrodt.
"So these guards. . They don't realize by escalating violence it's just gonna create more violence," Mallinckrodt said. "So they made it unsafe for themselves. They made it unsafe for staffers. And then the abuse continues."
Mallinckrodt also had his own experiences with the silencing of abuse. A fellow staff member told him about a brutal beating as an eyewitness that the staff member was afraid to report. Mallickrodt attempted to report it for her, pointing out during a staff meeting that the incident had not been addressed. "There was dead silence," Mallinckrodt said. "No one wanted to talk about it. . Finally the site manager for Corizon who was a psychologist looked over at me and said, well Mr. Mallinckrodt if you're having concerns you should put it in writing." Mallinckrodt deemed the response disingenuous and "pathetic."
Mallinckrodt started becoming known as a go-to person to report abuse. And the more he became the receptacle for stories of abuse that were being ignored by prison officials, the more Mallinckrodt's anxiety became unsustainable. He couldn't lift his hand without it shaking. He experienced low-grade nausea. "My response was to take longer and longer lunches. I figured if I could just get out for lunch to decompress, I could just survive another day." Until the day when he came back from a long lunch and he was fired. "I felt this amazing relief lifted from me," he said.
In days since Mallinckrodt left, a former coworker called him to tell him about Darren Rainey's death, and he became one of the most vocal advocates for accountability at Florida's Department of Corrections. Despite widespread recognition of this epidemic in Florida, and a bipartisan bill in the state legislature to reform it, the bill died in the Senate last month. Gov. Rick Scott (R) did issue an executive order this week to institute some reforms in its place, but the executive order relies on the very same Department of Corrections to perform the oversight it has thus far been accused of shirking.
Mallinckrodt doesn't think the executive order goes nearly far enough, and he calls for many of the same reforms as Human Rights Watch in their new report: establishing use of force policies and training staff on those policies, testing for incoming staff to screen out individuals with sociopathic tendencies, dramatically improved oversight and surveillance cameras, and most fundamentally, policies that improve inmates' condition rather than making it worse. This includes keeping inmates out of solitary confinement, where inmates in Mallinckrodt's unit spent most of their time.
But underlying the debate is another larger question, at a time when, as Human Rights Watch puts it, "It is well known that US prisons and jails have taken on the role of mental health facilities": Should these mentally ill inmates be there in the first place?
"That's the other constant discussion I had with my coworkers," Mallinckrodt said. "We'd get somebody in who was just severely mentally ill. And our constant refrain was just how did they find this guy fit for trial? He should be in a mental institution not prison. And that still confounds me."
---
Video From My Appearance Before the Criminal Justice Committee on January 5, 2015 in Tallahassee, Florida.
My presentation starts at the 43:50 minute mark.
---
AMAZON REVIEWS FOR:

'Prison is not as bad as you might think. It is so much worse.'
December 24, 2015. By Grady Harp, HALL OF FAME, TOP 100 REVIEWER, VINE VOICE
Florida author George Mallinckrodt places before us one of the most terrifying yet factual examinations of the abuse in our prisons. Not only is the news he unveils about the conditions present in those dark walls of incarceration shocking and deeply disturbing, but the manner in which he relates it is razor sharp - the kind of reading material that grabs you by the throat until the book is finished.

George is a psychotherapist working in a Florida state prison psychiatric ward where severely mentally ill patients in his caseload were abused, starved, taunted, tormented, and beaten by correctional officers. 'After a patient on my caseload was beaten by guards, my attempts to raise the issue of patient abuse were met with silence. My vociferous advocacy for the humane treatment of our patients ended in my dismissal. Ten months after my departure, guards put a man named Darren Rainey in a boiling hot shower and scalded him to death. Deeply impacted by Rainey's horrific death, I became an advocate for his justice on a local level, with FBI agents, and filing a complaint with the Civil Rights Division of the Department of Justice, Special Litigation Section. The complaint provided secondhand details of Darren Rainey's murder and a host of other abuses I witnessed in my former unit. Two and a half years after I spoke with FBI agents, the Miami Herald reported that the DOJ had initiated a criminal investigation into Rainey's death.'

And so begins George's book - '"They killed him!" "What? Killed who? What happened, Carmen?" "A patient named Darren Rainey. Guards locked him in the shower in J3, the one with the broken faucets." "Yeah, the one where they adjust the temperature." "Guards on the weekend shift set it. Had only the hot on, over 180 degrees." "S**t. You mean Rainey got scalded to death? He must've screamed. Didn't anybody hear him?" "Just the patients in the unit. Told me he kept begging over and over, Please let me out. I won't do it no more." "What did he mean by, I won't do it no more? What the hell did he do?" "Smeared s**t around his cell. Poor guy was a total bug. Had a history of mental illness."

And that level of intensity pervades this 'docudrama' - a film in the preparatory stages possibly, but at the same time a very important document about an evil few of us know. This book sounds like it was written about a war zone prisoner of war jail and after reading it, it is likely the attention will result, hopefully, in some major changes about how mentally disturbed patients are treated during incarceration. A major work and a significant contribution to our knowledge of corruption. Grady Harp, December 15
They Get Away With Murder Almost Everyday in Florida.
I could not put this book down. George is a major force when it comes to exposing the barbaric actions of some of the most brutal, sadistic animals running our prisons today, especially in Florida. Rick Scott should be put in a Florida prison for a month, if just to witness what kind of climate and culture he contributes to.
By Gerard on April 30, 2015 Format: Paperback Verified Purchase
I am not involved in the correctional system in any way so I was shocked to read the sad and terrifying conditions for the mentally ill behind bars. I do not see how Mr. Mallinckrodt was able to work within the system for such a long time. His professionalism and desire to help probably made a huge impact on the lives of the inmates he worked so hard to help. The breakdown of the system is horrendous and frightening.
Sandra J. Barnes on November 26, 2014

Not for the faint of heart or weak of stomach
This memoir of a psychiatric counselor's time working in the Florida prison system gives a chilling look inside Florida's prisons. From outsourced medical care to sadistic and brutal guards to indifferent management, Mallinckrodt paints an unvarnished picture of the abuses he witnessed. The dark humor he and his colleagues used to cope is evident throughout as he documents his growing frustration with the refusal of both the Florida Department of Corrections and his employer, a company contracted to provide mental health care, to meet the standards set forth in Florida law. In light of the recent discovery of the fate of Darren Rainey at the hands of DOC employees, this is a timely look at what really happens inside.
Sailor on December 8, 2014
This Story is One of The Reasons I Fight For Justice
A MUST read! This book will make you laugh, cry and scream out of anger, all at the same time, if that is possible. It uncovers the inhumane treatment of people who are incarcerated and are not mentally, physically or spiritually able to comprehend even the simplest occurrences in their daily lives. While reading, one cannot help but think, "What if this was one of my family members being treated like this." It draws you into the story...
Ethel Lopez on November 24, 2014

A shocking and darkly humorous account of working with mentally ill inmates in Florida's Dade Correctional Institution

George Mallinckrodt writes a gritty, mesmerizing account of his three years as psychotherapist in the "Transitional Care Unit" of the Dade Correctional Institution in south Florida, where inmates with mental health problems, including the most severe mental illnesses, are housed.

It's hard to put this book down. Although the subject is depressing, he weaves ribald prison humor and lively dialogue into his story. Mallinckrodt tells of his struggle with "being in prison" at a difficult and frustrating job. It is also a story about the inhumane and dangerous conditions for inmates in a run-down, poorly managed prison. Retribution keeps the inmates and the staff from reporting abuse. His journey from stressed out employee to prison rights advocate takes on greater urgency when a mentally ill inmate is brutally tortured and murdered by corrections officers in the prison and incident is completely covered up by authorities. (The investigation of the murder of the mentally ill inmate has still not been completed two years later.)

This book leaves you with the uncomfortable knowledge that terrible abuse is probably happening to inmates on a daily basis in badly managed prisons throughout the U.S., especially to inmates suffering from mental illness. If it were not for a few brave souls who are willing to report it, like Mallinckrodt and the inmates themselves, no one would ever know.

Amy M.

A Must Read

The author talks about the things no one wants to talk about or even knows about. But these are things the public needs to know. It is refreshing to know that someone cared and respected these men. Change must come. The book is riveting and very personal and should be life changing. He takes you to a place most of us have never even glimpsed.
Susan Michelson
George did a wonderful job, he really hit home with this.
Everyone should read this book. This is really what happens in the real world! Justice needs to be done! How can people sleep at night knowing this goes on. Please read this book. You will be amazed of how our Justice System really works.

Thanks George for this great book.

Debby Sapp
---

Will inform, entertain, and most importantly, challenge readers to examine preconceived notions about the prison system. Explore the dark underbelly of a system that endorses a cover-up philosophy. In the Florida Department of Corrections, guards abuse, torment, beat, torture, and murder inmates. It's all just another day in prison.
I've experienced things you would not believe...